Living Books for Counting: Math Literature for Kids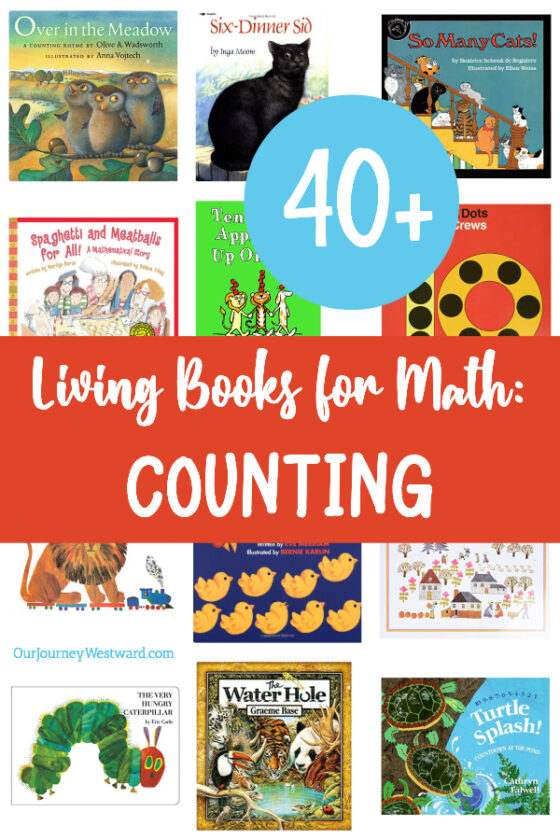 Living books for counting are so helpful for teaching early number concepts to young children and to help older children conceptualize really big numbers. This post includes some of my favorites to help you do both of those things.
Why add counting books to your plan for homeschool math? They help familiarize children with the meaning of numbers. It's a very abstract thing to understand what numbers mean and what counting represents. Books and other things like manipulatives really help build pictures in a child's mind so that numbers and counting make sense.
This post contains affiliate links.
Living Books for Counting
I just love these living books for counting. They gently teach the idea of one-to-one correspondence (which is number sense) and growing numbers. A few of them also touch on mathematical concepts like sorting, too.
Most of the books on this list deal with the numbers 1-20, which is foundational for moving into addition and subtraction.
1, 2, 3 To the Zoo by Eric Carle
12 Ways to Get to 11 by Eve Merriam
A Bag Full of Pups by Dick Gackenbach
Anno's Counting Book by Mitsumasa Anno
Caps for Sale by Esphyr Slobodkina
Counting Crocodiles by Judy Sierra
Five Silly Fishermen by Roberta Edwards
How Many Bugs in a Box?