Disclaimer- I received this complimentary product through the Homeschool Review Crew.
The Giving Manger from WorthyKids is a sweet way to cultivate a heart of kindness and generosity at Christmas! This is just what you are looking for to grow virtue in the fertile soil of your children's hearts. You'll want to do this every year! We're starting a new family advent tradition!
The Giving Manger comes with a delightful picture storybook that tells the story of Anne and Ben whose parents want to focus on giving gifts of service at Christmas. Father carves a little manger and every time anyone in the family does good deeds, they get to put a piece of straw in the manger. This is based on Jesus' promise that when we do anything out of love for the "least of these" we do it for Him. I cannot read this book without crying! It is the sweetest book.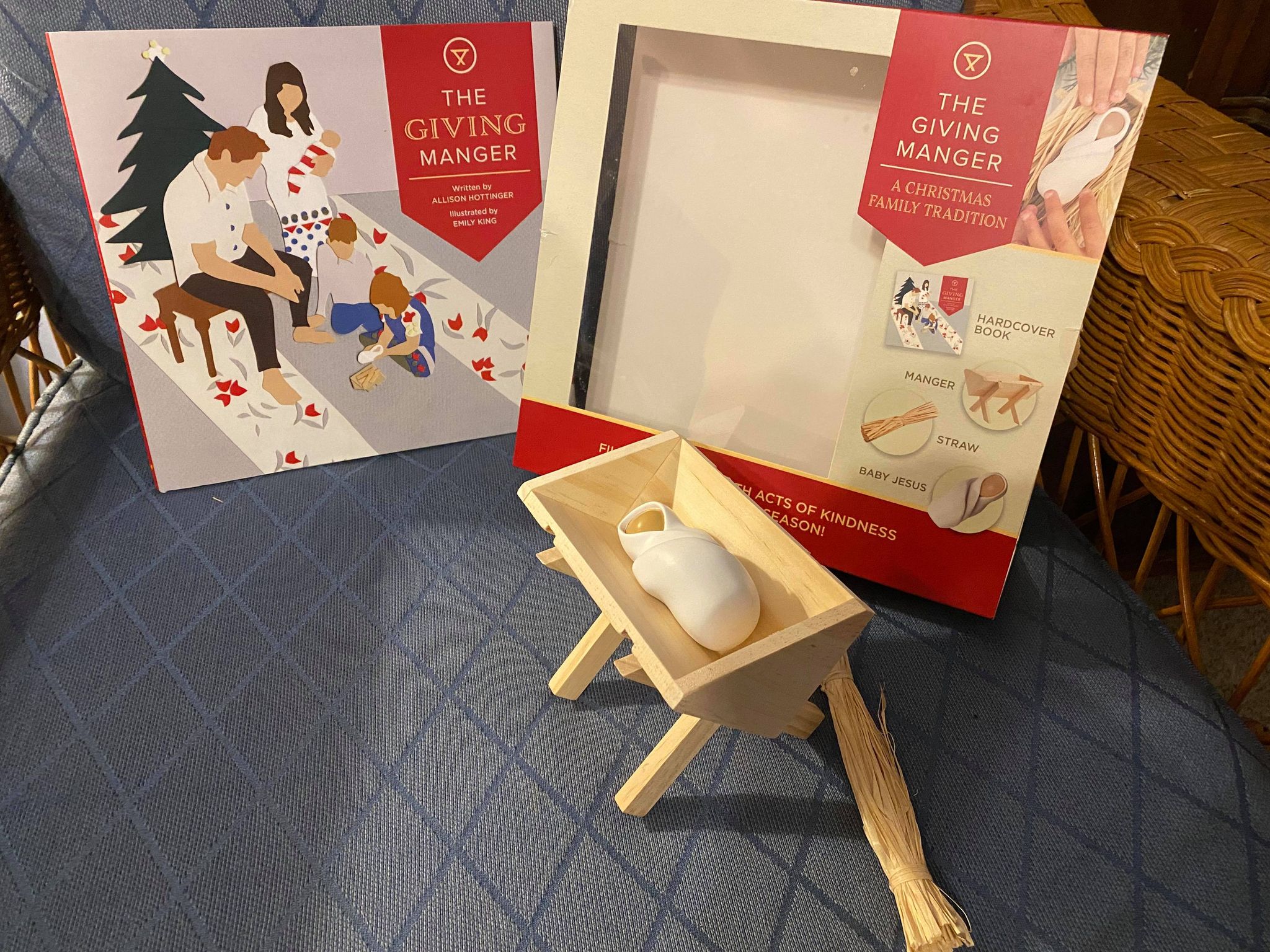 As far as quality, The Giving Manger by Allison Hottinger is a sturdy hardback with a beautiful cover and a paper folded cover over all. The font, story, and choice of words is all excellent. We all loved this book, especially my grandsons.
One more thing about the book–the artwork is so creative. Each gentle picture by Emily King is made of cut paper, then photographed. It gives a three-dimensional look to the illustrations. I just love it! It reminds me a little of Ezra Jack Keats' illustrations. What fun!
Your children will want to hear the book over and over again. Once you've read it 20 or more times, I would recommend pointing out the artwork. Yes, a little art appreciation lesson. We actually tried our hand at. Okay, ours didn't turn out well enough to photograph, but is was super-fun!
The book also comes with a little manger made of wood–another quality product. It will withstand little hands dropping it several times as your tiniest children try to put their straw in the manger. It's simple, but lovely. The manger comes with baby Jesus–again, simple but lovely. Finally, there is a tiny bundle of straw.
The quality of this product is so good that I heartily recommend it for Christmas giving. It will make a wonderful gift for any Christian family that will be used year after year after year.
One thing I love about The Giving Manger is that is works for all ages. It is simple enough for toddlers, but profound enough for teens. I love the way it promotes random acts of kindness with a focus on doing those acts of service for Jesus, whose birthday we are celebrating.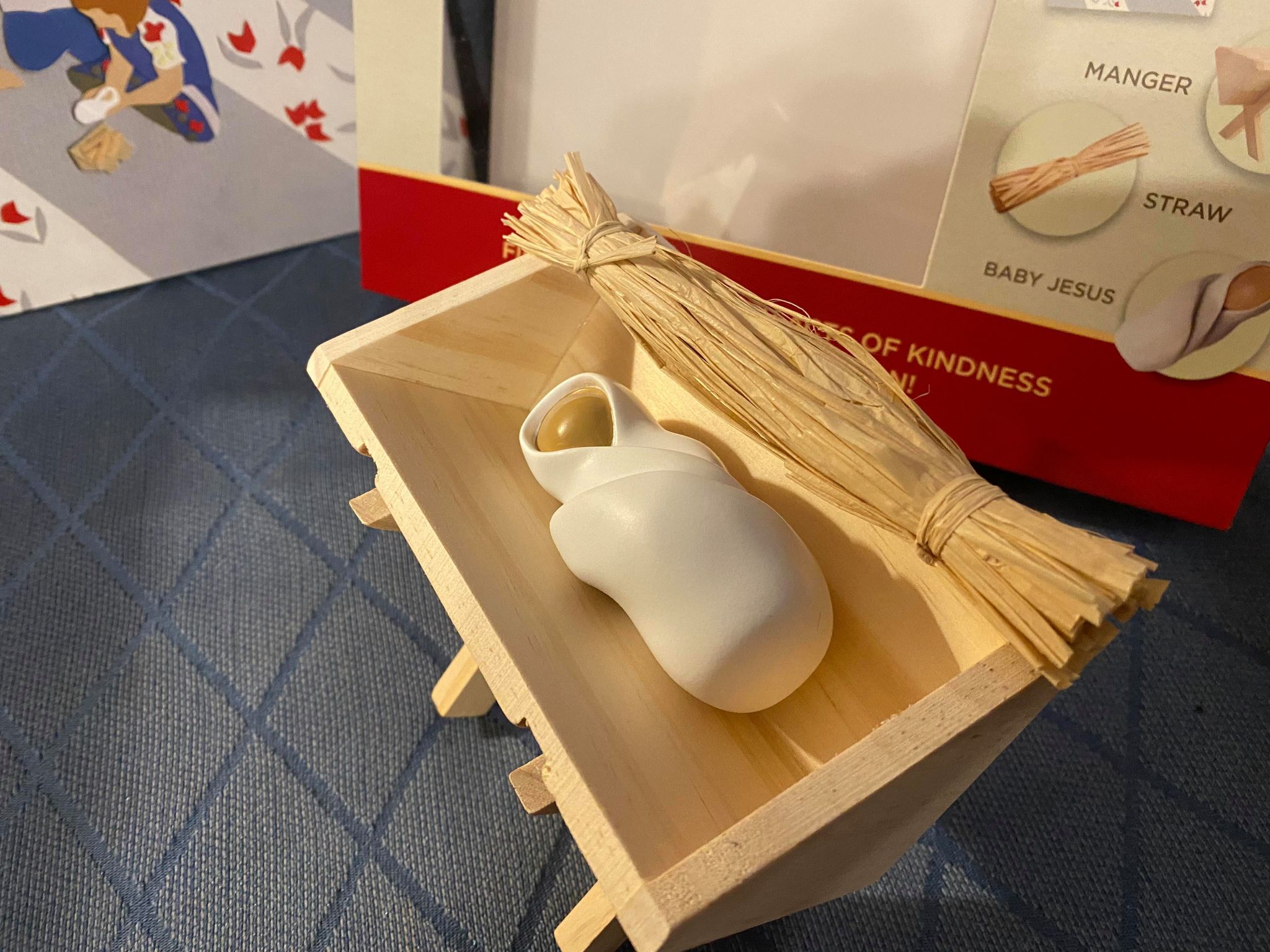 I'm holding on to this sweet Christmas book, manger, baby Jesus, and straw. It is our new family tradition!
Check out WorthyKids on Facebook, Instagram, and Pinterest. Check out the Giving Manger on Instagram.
Read More Reviews about the Giving Manger
You can read more reviews about the Giving Manger from Worthy Kids HERE from other Homeschool Review Crew bloggers.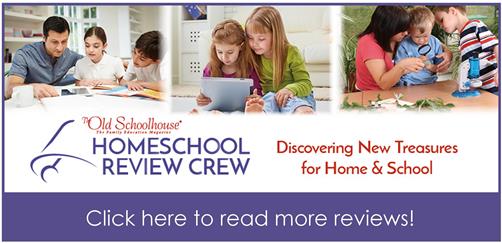 Check Out TOS Homeschool Review Crew Blog!
I also want to encourage you to check out The Old Schoolhouse's Review Crew Blog. You can read reviews on all kinds of homeschooling products for all ages.
Until next time, Happy Homeschooling and Merry Christmas!
Warmly,
Meredith Curtis