3 Ways to Make Your Holiday Parties Shine With IKEA's Shallow Base Cabinets
Using IKEA's Base Cabinetry to Boost Your Storage And Entertainment Options
All of us on the IKD team love to visit IKEA showrooms for design inspiration. When we take these field trips, one thing that always stands out to us is how they utilize SEKTION's shallow base cabinets.
On our most recent visit, we couldn't help thinking about different ways those shallow base cabinets could be total game-changers for holiday parties. Lots of IKD customers use their kitchens as an entertaining space and, hey, 'tis the season!
Strangely enough, however, people don't really know about this option — even though it's on the website! We think it's because of how you would find these on the website. You have to click the Size dropdown to see what options there are.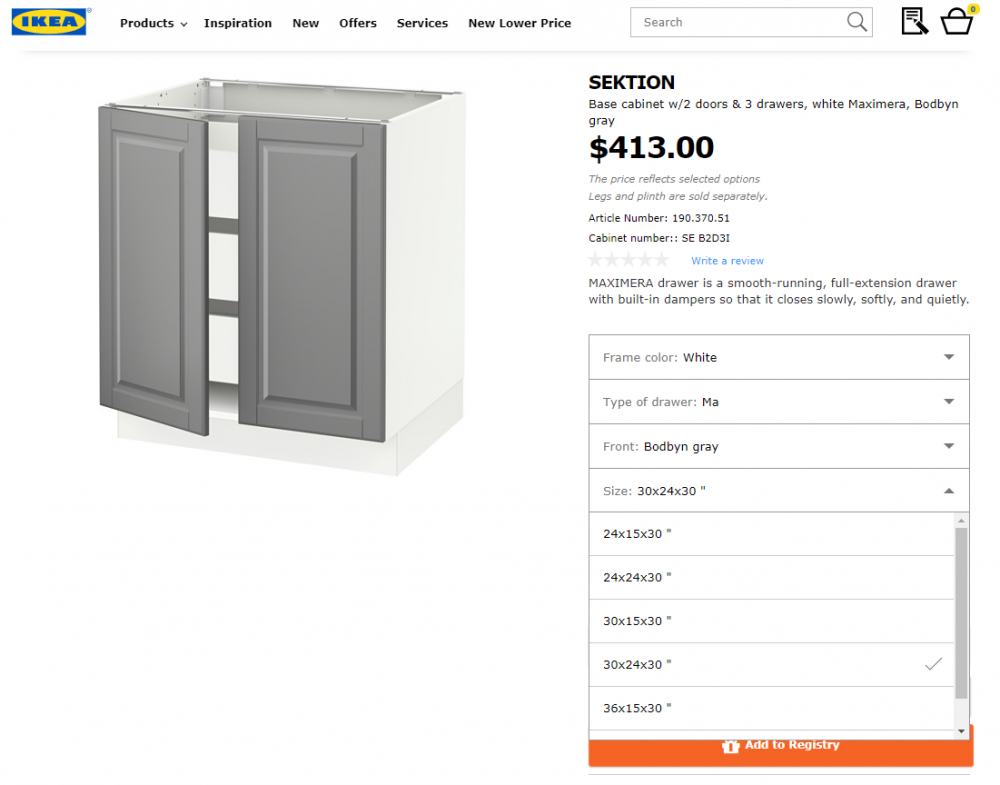 Not going for Bodbyn gray? No sweat. Just change the frame color to see some of the other drawer front options.
If you're just getting started with your design, these nuances might slip right past your radar. But that's why we're here: to show you a few of the ways IKEA's 15" deep drawers can make your holiday parties shine!
Get A Professional IKEA Design For Your Home – All Online
Our IKEA Design Packages are everything you need to complete your new kitchen, home office, or any other room with confidence.
GET STARTED TODAY
#1: Fit a U-Shape Into Your Small IKEA Kitchen
During the holidays, your kitchen works overtime — and if you've got a small kitchen, you know you need to optimize your space as much as possible.
Here at IKD, we often design for customers who don't have enough space for traditional 24"-deep cabinets along all three kitchen walls. That's when we turn to shallow base cabinets! More often than not, at 15"-deep, they're the ticket to getting more storage into your IKEA kitchen.
Look at the corner in the photo above. See how the row of 24" cabinets with the sink meets up with a much shallower row of cabinets? This isn't just chic: it's also functional. By designing this way, you can have the kitchen work triangle that makes holiday meal prep a breeze.
#2: Create a Buffet or Serving Area with Shallow Drawers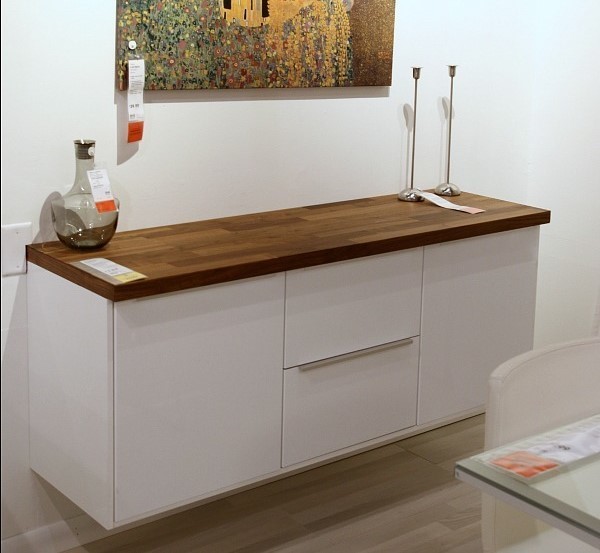 We loved this in the IKEA showroom…but the photo we took was blurry. Thanks, housetweaking.com for letting us borrow your photo.
Whether you're serving latkes, Lussekatter, or a tried and true fruitcake, this clever floating buffer area is a great place to display your holiday treats. The shallow base cabinets attach to the wall and won't prevent your guests from circulating. Stash extra plates, napkins, and toothpicks down below in case of party emergencies!
We see this setup working perfectly either behind a large kitchen island, or between the kitchen and dining rooms. Want to change it up a bit? Consider purchasing some decorative legs to make the buffet look like a credenza. Take a look at the Pretty Pegs website — they have decorative legs with a mid-century modern feel.
#3: Create a Small Bar with Shallow Base Cabinets
What's a holiday gathering without some liquid cheer? Just like the buffet above, this little bar would work well between kitchen and dining rooms. (Psst: there's also some matching shallow IKEA wall cabinets above the bar.)
You can see the wine rack above, but that's not all this bar has going for it. Take a look at what's behind the doors!
Hobby mixologists, eat your hearts out. You can keep all your bar accessories within reach with these shallow drawers. Depending on the kind of party you like to throw, be sure to save some space for cards and poker chips, or Solo cups and ping-pong balls. I won't judge.
Get a Professional IKEA Design For Your Home – All Online
Work with our certified designers to get a personalized IKEA design for your kitchen or any other room in your home. If you're interested in learning more about our service, make sure to check out our IKEA Design Services.
Image Credit
"beesley kitchen christmas eve" by Flickr user chuck_heston, licensed under CC BY-SA 2.0.
All other images were taken by IKD staff, except for the house*tweaking photo indicated. House*tweaking often features IKEA kitchens with lots and lots of before and after photos…take a look at the series here.