Beko BFBF3018SSIM Bottom-freezer Refrigerator Review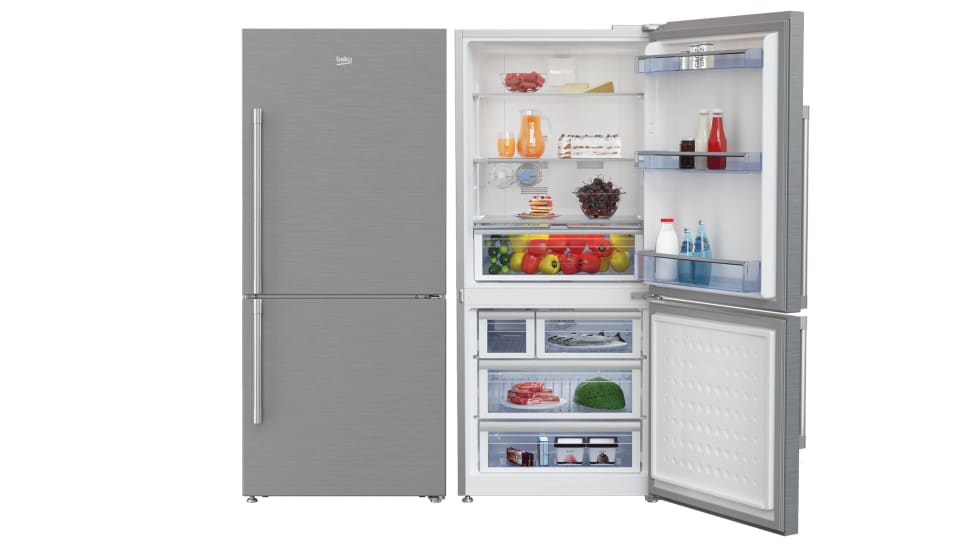 — Recommendations are independently chosen by Reviewed's editors. Purchases you make through our links may earn us a commission.
In our experience, Beko's fridges can be hit or miss, and unfortunately the Beko BFBF3018SSIM (available at Appliances Connection for $1,469.00) falls into the latter category. While there is a lot to love about this counter-depth, bottom-freezer fridge, from its innovative crispers to its wine rack to its well-compartmentalized freezer, its temperature inconsistencies are a big problem, varying 6°F from the top shelf to the bottom of the fridge. What this means is that calibrating your fridge for safe temperatures on the top shelf means items on the lower shelf will freeze. If you want to try a Beko—an established brand but one that's only been in the U.S. market for a few years—we recommend the Beko BFTF2716SSIM top-freezer fridge as it is much cheaper, has cool crisper tech, and provides even temperatures. But, for the best value fridge at this price point, the Hisense HRB171N6ASE is your best bet.
The Beko BFBF3018SSIM has a brushed stainless steel finish, two large handles, and a bit of branding front and center.
Opening the fridge compartment reveals a door with the standard array of bins, a few shelves in the main compartment, a wire wine caddy, and the glow of its Active Fresh Blue Light crisper.
When it comes to the freezer compartment, many bottom-freezers are essentially one large drawer that pulls out to reveal shelving or compartments within. This Beko freezer door, on the other hand, swings open on a hinge to reveal four smaller drawers. The top-left is the ice-maker, and the rest are for storage.
About the Beko BFBF3018SSIM bottom-freezer refrigerator
Dimensions: 67.69" x 29.13" x 29.75" (H x W x D)
Measured capacity: 8.23 cubic-foot refrigerator, 2.73 cubic-foot freezer
Finishes: Fingerprint-free stainless steel
Dispensers: Ice maker (internal)
Depth: Counter-depth
User manual: Beko BFBF3018SSIM bottom-freezer refrigerator manual
What we like
The freezer offers cold, steady temperatures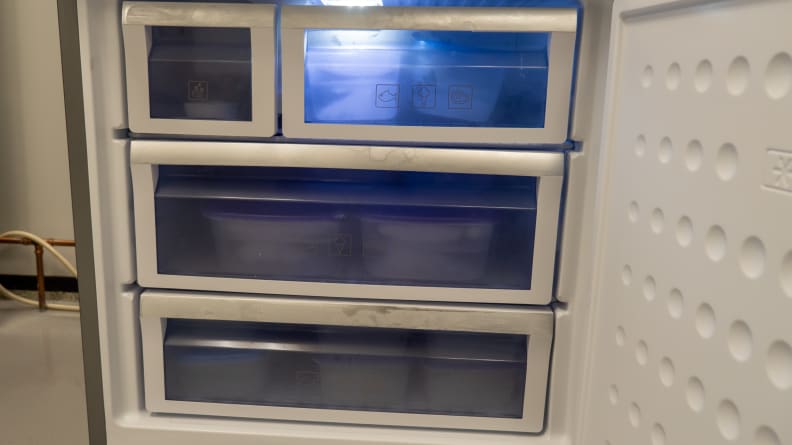 Have you ever had issues with freezer burn? Freezer burn is often caused by your freezer's inability to keep temperatures steady, leading to defrost-refreeze cycles that extract all the moisture out of your food.
We can confidently say that you won't run into any freezer burn issues with the Beko BFBF3018SSIM, as its temperatures remain remarkably consistent over time. Further, the temperatures in the freezer are more or less perfect right out of the box, so no further calibration is necessary.
The removable wine bottle rack is an excellent extra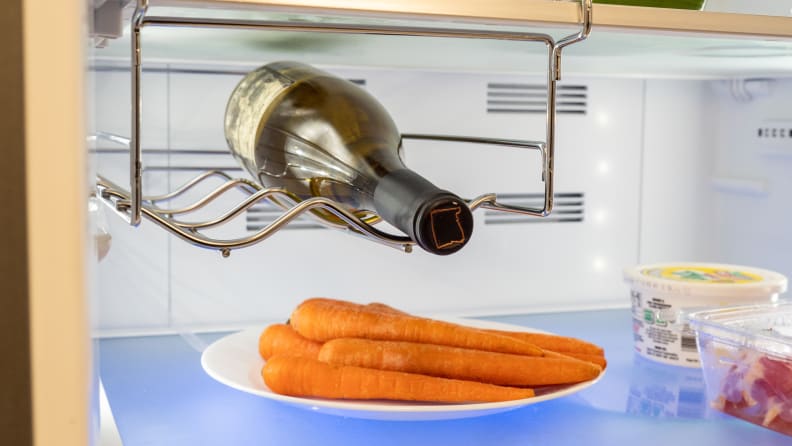 This is a delightful extra feature we haven't seen before—and we can't figure out why. It's a relatively low-cost add-on, provides solid functionality, and is entirely optional to use.
While true oenophiles would balk at wine being chilled down to these temperatures, those who don't have a separate column fridge or wine fridge calibrated to the perfect 55°F might appreciate an easy way to keep a bottle of riesling cold.
Its interesting crisper tech is a boon for veggie-lovers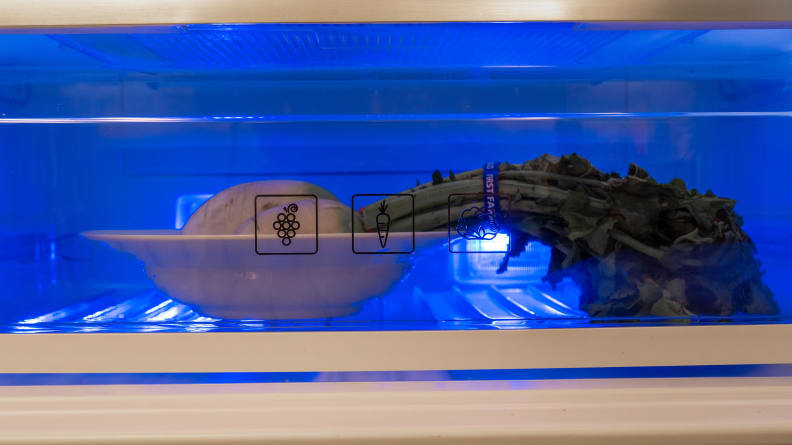 The most interesting innovation Beko has brought to the refrigeration space is its Active Fresh Blue Light system. This technology purports to use blue LEDs to help support photosynthesis. We measured the intensity of the lights and they seem too dim to provide adequate photosynthetically-active radiation for this to occur, but there is evidence this technology still provides a benefit to leafy greens, allowing them to retain their nutrients for longer.
While this feature might not be everything Beko claims, it's still a useful innovation that can help reduce food waste. We're hopeful in future fridges Beko will tackle the low lux output of the lights and bump it up high enough to add photosynthesis support as well.
What we don't like
The refrigerator runs warm and temperatures are inconsistent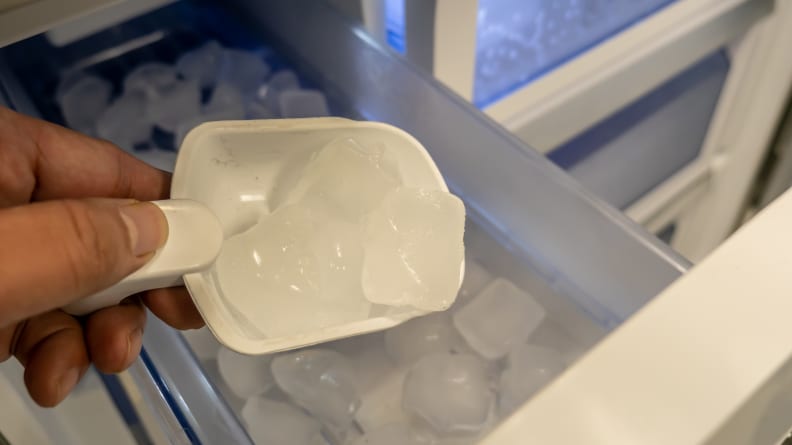 Fridges need to maintain a relatively narrow band of temperatures: Anything below 32°F will cause items to freeze, and anything above will allow bacteria to run rampant through your leftovers.
While we did observe nominal temperatures throughout the bottom and middle of the fridge, where temperatures fell within the ideal range and only budged by one or two degrees, at the top of the fridge temperatures were all over 40°F and fluctuated to just over 46°F.
These temperatures are not safe for food storage, so we strongly recommend turning down the temperature in your BFBF3018SSIM after unboxing, to keep your perishables from perishing too soon.
However in doing so, expect the temperatures at the bottom of the fridge to drop as well, leading to conditions where some of your perishables may freeze. And this is a big problem.
When we tested this fridge—and retested it just to be extra sure our readings were accurate—temperatures at the top of the fridge compartment varied by up to 5°F and were routinely at least 3°F warmer than the rest of the fridge.
For context, fridge temperatures can fluctuate in a few different ways, but mainly fall into three groups: Cold air escaping when the door is opened; temperatures rising during defrost or idle cycles; cold air not circulating throughout the fridge properly.
Reviewed's chief scientist Dave Ellerby determined that the Beko BFBF3018SSIM's problem is the third scenario, due to the upper shelf and air vent's design: The air vent pushes air sideways rather than blowing it dead ahead, which quickly funnels the air down the gap at the back of the top shelf.
What owners are saying about the Beko BFBF3018SSIM bottom-freezer refrigerator
Beko is still a relative newcomer to the U.S. appliance market, and it is not available from as wide a range of retailers as mainstream brands like Samsung and LG. As such, there aren't many user reviews available online. Still, we browsed what is available to get a sense of how happy BFBF3018SSIM owners are with their purchase.
Overall, users have rewarded the Beko BFBF3018SSIM with an average 4.2 out of 5 stars. Those who like the fridge cite its easy-to-clean finish, the design of the bottom freezer, and glass spill-capture shelves.
Those who don't like the BFBF3018SSIM say that the ice maker has stopped functioning or note similar temperature discrepancies to what we experienced in our lab.
Warranty
Beko offers a two-year warranty that covers parts and labor, which extends to all major appliances, and fridges. For fridges specifically, Beko additionally covers its sealed system (consisting of the compressor, evaporator, condenser or filter) for up to five years. The industry standard warranty is just one year for parts and labor, so we love Beko's extended guarantee.
The issue some U.S.-based consumers may face, however, is a lack of familiarity with Beko as a brand. While the Turkish manufacturer has been around since the 1950s, it's only been in U.S. markets for about six years now—much more recently than the familiar names that dominate the space.
Regarding Beko's U.S. infrastructure, David Riordan, the national service manager at Beko Home Appliances, says, "At Beko, we contract with service agencies in each market where appliance dealers sell our products. As for parts, we are a direct supplier and our parts distribution center is located in Bolingbrook, Illinois, just outside of Chicago and centrally located in the U.S. market. We always have an open line of communication with our dealers, service agencies, and customers to make sure we are providing parts promptly and with the best service possible."
Should you buy the Beko BFBF3018SSIM bottom-freezer refrigerator?
No, its temperature inconsistencies make it a bad buy.
The main issue with the BFBF3018SSIM is its inconsistent temperatures, which result in temperatures on the top shelf sometimes rising to 6°F warmer than the rest of the fridge. Calibrating the fridge to get temperatures there into the safe zone below 40°F will plunge the bottom of the fridge below freezing. As such, we can't recommend this refrigerator—there are simply better options out there.
That being said, we really do hope more fridges come with a removable wine rack, since it seems like a relatively low-cost way to add a nice optional storage fixture.
If you want a Beko fridge that does perform well, try the BFTF2716SSIM.
If you're in the market for the best fridge in this price range, we recommend the Hisense HRB171N6ASE. It offers consistent temperatures once it's calibrated.
The product experts at Reviewed have all your shopping needs covered. Follow Reviewed on Facebook, Twitter, Instagram, TikTok, or Flipboard for the latest deals, product reviews, and more.
Prices were accurate at the time this article was published but may change over time.