Cricut Storage Ideas – Craft Room Organization
Cricut Storage Ideas – Are you looking for ways to organize your Cricut supplies or craft supplies? Today I am sharing a few helpful tips for storing craft supplies and tools. Plus, tips for craft room organization.
Wouldn't you love a perfectly organized craft room? I sure would and I am working on my craft space to dive back into my crafting! Get ready to organize your craft room! Go here for other ways for home organization.
The post content may contain affiliate links. By clicking on these links and then purchasing something through them we earn a small commission, at no added cost to you.
Cricut Storage Ideas
I tackle cleaning my craft room and craft space several times a year. And after big crafting sessions. Do you? I find it helpful to store craft supplies and Cricut craft supplies where you can easily find them and use them.
Don't waste time looking for your craft supplies or looking for your tools. Be ready to do a project by preplanning and being organized. I hope these craft room organization tips help you.
Home Office Makeover – I reorganized my craft space. By redoing my small office/craft room space. Well, things can get disorganized pretty easily if you craft often.
How To Organize Your Cricut Supplies
Cricut Joy Storage Case
When I bought my Cricut Joy I purchased this Cricut Joy Case. This case comes in a charcoal/black, gray, or purple color. It has carrying straps for if you craft with others and take your Cricut with you. Let me share some of my favorite features of this Cricut Carrying Accessories Storage Case with you.
Why I love this Cricut Joy Storage Case
It's material is made of heavy-duty nylon (Keeping my Cricut Joy dust and dirt free). Well-padded interior lining offers protection for your Cricut joy and tool set.
The main compartment: A main part to hold the Cricut joy. (There is a detachable padded divider to help you separate machine and the power adapter).
Accessories Storage: Several elastic loops to secure Cricut pens. 2 open translucent pockets to place 4.5″ x 6.25″ card mat, 4.5″ x 6.5″ standardgrip mat and tool set. 1 zipper pocket for putting another small item.
2 Carrying Options: A padded top handle and a detachable shoulder strap for choosing freely.
The storage bag for the Cricut Joy keeps everything you need handy for crafting at home or crafting on the go!
I didn't wind up the cords neatly like I normally do. Whoops! But I tossed in my box of extra cutters in the bag. Which is perfect for when my Cricut blades get dull. Each side has ample space. If you have a Cricut Joy and the Cricut EasyPress Mini – you should check out this Cricut storage case that fits both and has extra storage. Then I had gotten my mini after I purchased my Cricut Joy. I just keep it nearby in the storage cabinet. I am going to get this protective storage case for the Cricut EasyPress Mini.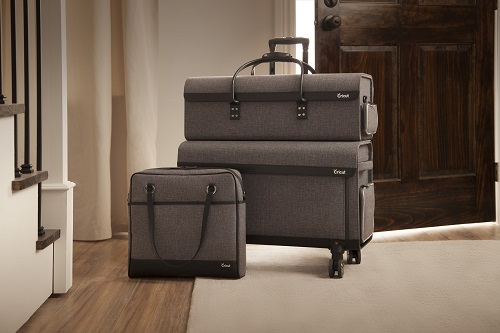 Other storage solutions for Cricut are here.
Use Storage Cabinets For Keeping Your Craft Supplies!
Before/after photo. This is how I organized the

storage cabinet

with my Cricut supplies.
I used decided to use this DIY (

upcycling a utensil holder

) to store my craft scissors, hole punches, lint roller and misc. other craft tools.
Do you have pets? I keep my pet treats nearby. My pets love to be by me when I craft. (Hence the handy lint roller!)
I moved my misc. office supplies elsewhere and put my large EasyPress and mat in the top left of the cabinet.
Then I added my Cricut Joy in the storage case with supplies to the cabinet. Next, my EasyPress Mini and mat in that bottom left space.
Fixing my self was on my to-do list. I had to add the peg back in to hold my shelf up.
On the top right in the cabinet I added all my Cricut vinyl and Cricut iron-on materials for my Cricut Explore Air 2 and Cricut Maker. (if you need a storage case for these Cricut die cut machines check out this

storage case

is compatible with them!
On the bottom right I organized all my Cricut Joy vinyl and Cricut Joy iron-on materials. I like buying the supplies in bulk shop here.
Tada!
Now I am ready to get back to crafting with my Cricut machines! The cabinet has doors, this keeps everything clean and dust-free. My cabinet space front to back is 15 inches wide for storage. A good tip is to measure the widest items you will be storing and get the right sized cabinet or storage organization unit.
Are you interested in making things with Cricut machines? Check out these online Cricut projects. And check out the inspiration page here for other Cricut designs.
Shop our favorite craft storage cabinets
Craft Room Organization Planner and Checklists
New here? Don't forget to subscribe. We have free printable crafting resources, home organization checklists, and cute printables in our exclusive library! After you sign up, you get the code to enter the exclusive library. The library stores this craft planner.
Plus, get all our posts and watch for our printable craft planner with page for notes and supply list. This will help you be organized and productive. Use printable craft project checklists. Find more ideas below right in the post.
Craft Room Organization
Are you looking for more craft room storage ideas?
Craft Storage Ideas
Do you remember when I converted (and painted) my dresser into a kitchen island? It got a lot of buzz on BuzzFeed (31 Affordable Remodeling Ideas You Can Actually Do Yourself – our DIY was #7 in the article). How can drawers like that help you with kitchen storage? Well, they can! I store my linens, hand towels, and misc. stuff in the small drawers. I store all my baking supplies in the bigger middle drawer. And opted to store my Cricut supplies in the bigger bottom drawer (as pictured above). Keeping everything I need handy! I use this dresser for storing baking and crafting supplies.
What types of crafts do you do? Are your supplies are organized?
See what crafts we are making with our Cricut machines. Search Cricut Crafts in the search bar!
Want to learn more about Cricut?
The post Cricut Storage Ideas – Craft Room Organization appeared first on Dear Creatives.