Flexispot Esben UD4 standing desk review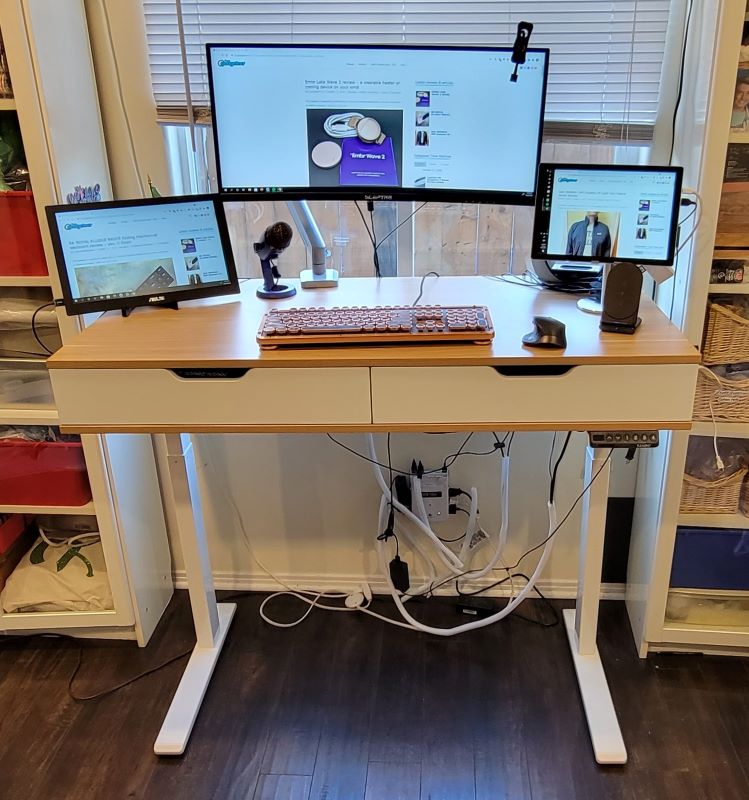 REVIEW – Last January I reviewed the Flexispot Comhar standing desk and I really liked it, but my son decided he needed it, so I gave it to him.  It was just as well.  That desk was hard to keep clean and I am a bit of a slob, so it wasn't a great choice for me.  Then last month I reviewed the Flexispot Sit2Go fitness chair and if you read that, you know that it works best with an adjustable desk, so Flexispot kindly sent me the Esben Standing Desk UD4.  I think I found the perfect adjustable desk for me!
What is it?
The Flexispot Esben UD4 is a motorized adjustable standing desk featuring two drawers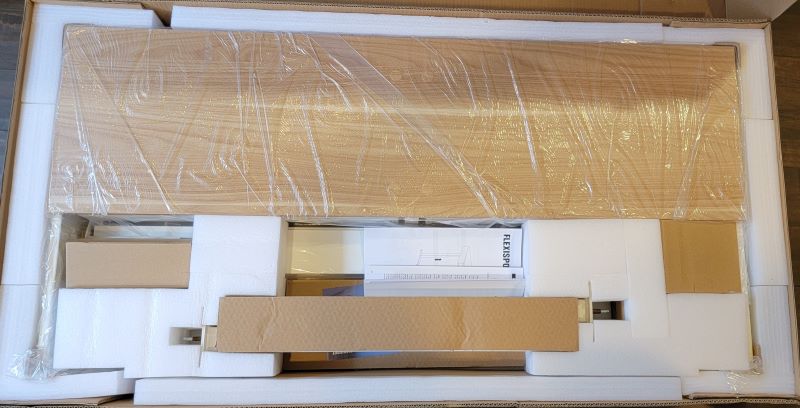 What's in the box?
The Flexispot Esben UD4 standing desk and parts to put it together
Instructions
A flyer for help
Specs:
Control panel:  6 buttons with four programmable settings
USB ports:  2 type A, 1 type C
Adjustability:  29.5" – 49.2"
Weight capacity:  99 lbs.
Desktop size:  48″(W) x 24″(D)
Desktop max thickness:  5.1"
Warranty:  5-year warranty for the frame, motor, and other mechanisms, and a 2-year warranty for the controller and switch, electronics.
Certification:  CCC、CE-EMC、CE-LVD、GS、FCC、UL、CUL、RCM、C-TICK、SAA、KC、PSE

Design and Features
The Flexispot Esben UD4 standing desk arrived quickly via FedEx and once I dragged it inside, I put my son to work unpackaging and assembling the parts.  The desktop comes pre-assembled, so for the most part all you need to do is attach the legs and feet, plug in the power supply and stick it to the desk, and tip it up.  It took about 10 minutes to put it together, and if you get confused there is a video on the Flexispot website that demonstrates the assembly.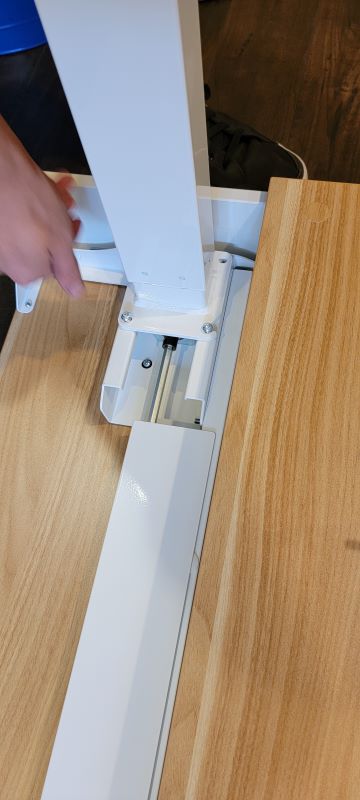 The Esben series of adjustable desks are white with a light simulated maple worktop (similar to Formica) that gives a clean, bright look to your office space.  I appreciate the fact that I can just wipe it down and that it doesn't show any fingerprints, which was my problem with the Comhar desk.    The UD 4 version also has a simulated wood desk bottom that sandwiches two large drawers.  The drawers don't extend to the very back of the desk, which leaves a lip at the back that is about an inch thick where I was able to clamp my monitor arm, which left me with more desk space. If you want a more traditional monitor stand, there is a coordinating maple stand that you can attach to the back of the desk that is an optional accessory.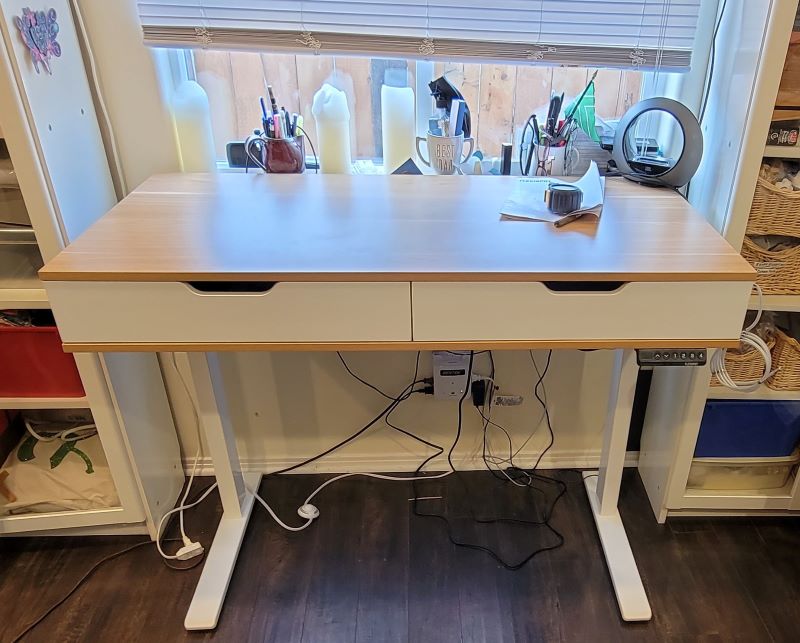 The Flexispot Esben UD4's drawers are roomy (appx. 12″ x 20″) and I'm ok with the fact that they are not as deep as the desk because when drawers are too deep (like my drawers at work) they become kind of a no man's land of everything that works its way back there.  If you need extra drawer space, Flexispot sells a number of rolling drawer sets on their website that will coordinate with the desk.  I made do with a little cart that I had around the house that holds the rest of my desk clutter.  I don't think I could ever have enough drawers.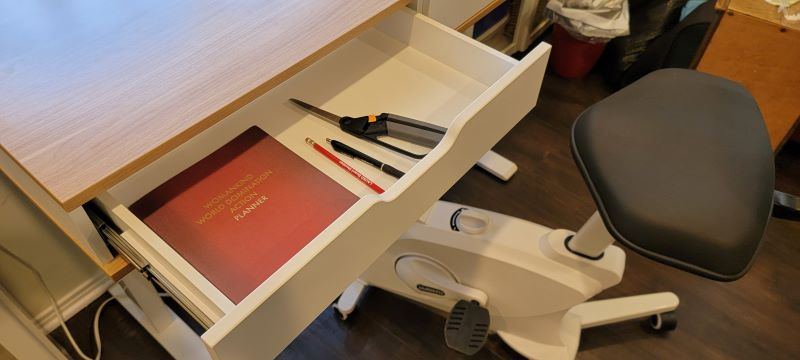 On the front of the desk under the right drawer is a small control panel with arrows that allow you to raise and lower the desk.  A display shows the number of inches the desk is set to, anywhere from 50 inches, which I guess would be for someone extremely tall because it was chest height on me, down to 29.5 inches, which is so low I think I could sit on the floor and type.  There is an anti-collision system on this model that keeps it from crushing anything if you accidentally have something under the desk when you lower it.   The panel also has four numbered buttons that can save settings in case you have more than one height that you like to move between, or if multiple people in one household use the desk.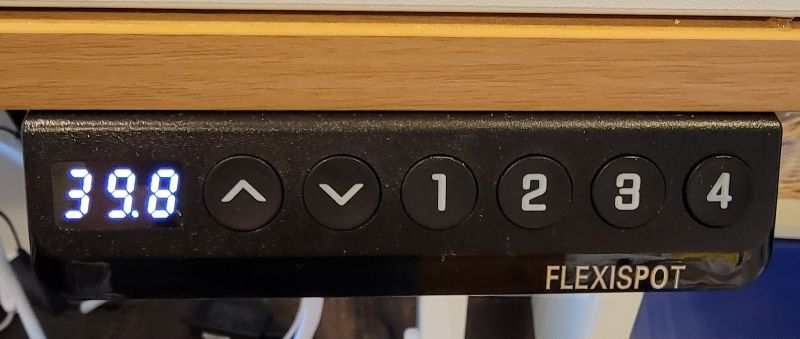 On the side of the Esben are three USB ports and a blue light that indicates if they are receiving power.  I'm not sure why you need the light, except that the front panel display turns off after a time so the light tells you that the desk is plugged in.  I don't find myself plugging and unplugging the desk, so if I had my way I'd swap out that light for another USB port (that's another thing I could never have too much of), but I suppose that's a minor issue.  Two of the ports are USB-A and one is USB-C.  I Like having those ports on the side because the cords can be messy looking.
The legs on the Flexispot Esben UD4 have disks underneath that protect floors from the metal supports, but if you want the Esben to be more mobile, you can buy casters on the Flexispot website.  The leg supports are very stable and I never get the feeling that the desk is tippy, even when it's on its highest setting.
The desk works great with their under-desk hybrid chair cycles like the one I recently reviewed, the  Sit2go or their line of vibration plates or under desk treadmills.  I like the way Flexispot has created a one stop shop for standing desks and fitness, since I think that's one of the big reasons people buy standing desks – because they want more activity in their lives.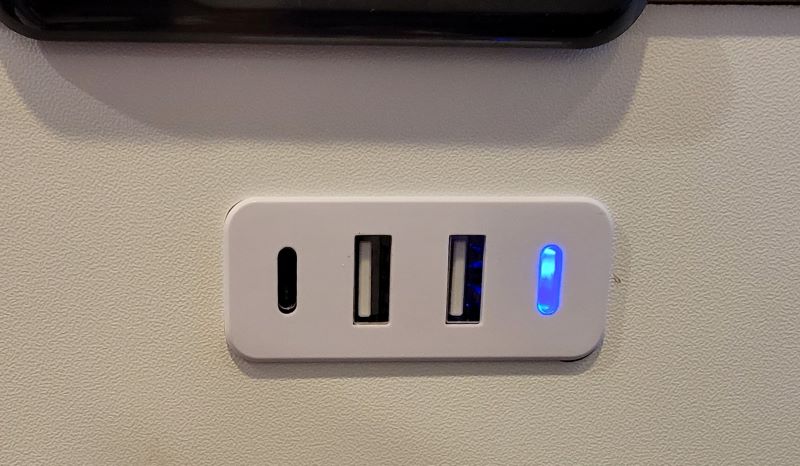 One caution about these kinds of standing desks:  they don't have a modesty panel or anything that hides cord clutter, which I suffer from.  If these desks had a power strip built-in I would love that, because the mess under my desk of the computer cord, the monitor cord, the phone charger, the desk cord and various other things I have plugged in around me creates a messy presentation.  I tried to hide it with some white cord cover that helps the cords blend in with the wall, but there's only so much you can do about it when every cord is black and it has to plug in under your desk.  If the Flexispot Esben UD4 standing desk had a power strip in back and maybe a white cord, I would be better able to conceal my cord shame.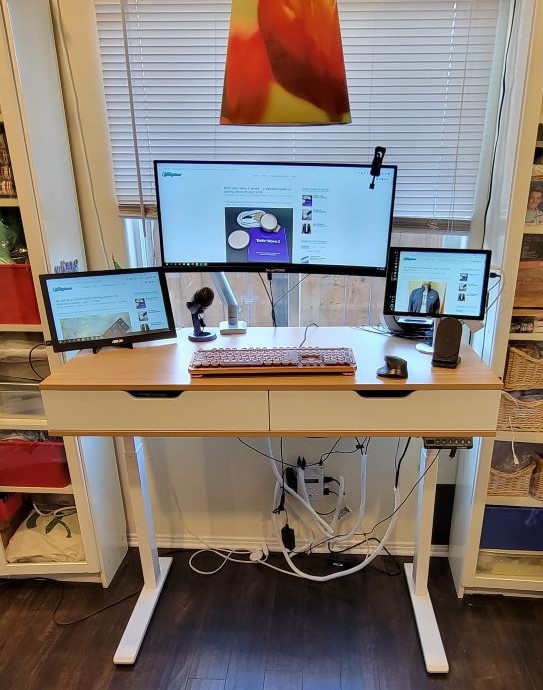 What I like
Easy to keep clean
USB ports on the side instead of in front
Drawers to store my stuff
What I'd change:
How about a power strip so I don't have unsightly cords?
Final thoughts
I really like my Flexispot Esben UD4 standing desk and I use it daily.
Price: $499
Where to buy:  Flexispot
Source:  The sample for this review was provided by Flexispot
Filed in categories: Reviews
Tagged: Office, Standing Desk
Flexispot Esben UD4 standing desk review originally appeared on The Gadgeteer on November 20, 2021 at 9:00 am.
Note: If you are subscribed to this feed through FeedBurner, please switch to our native feed URL http://the-gadgeteer.com/feed/ in order to ensure continuous delivery.