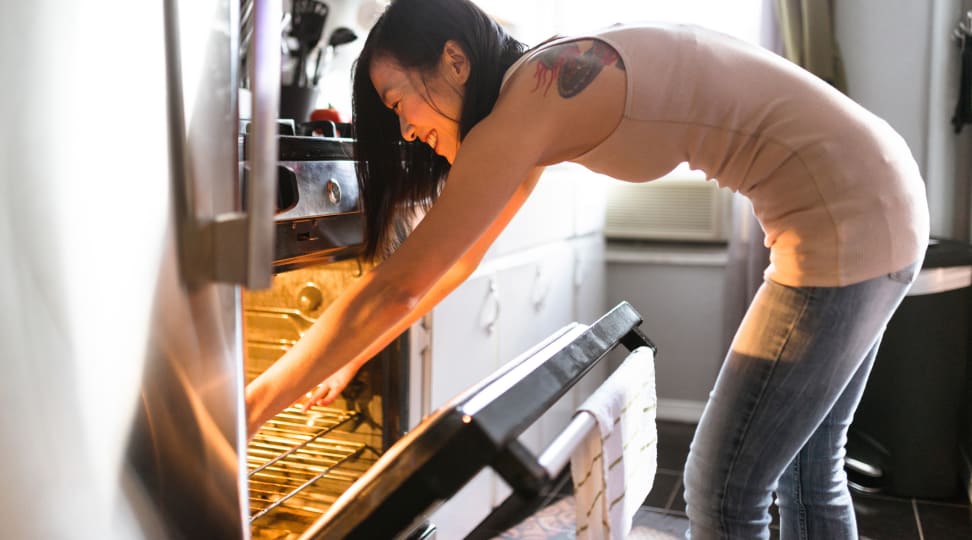 — Recommendations are independently chosen by Reviewed's editors. Purchases you make through our links may earn us a commission.
Editor's Note: March 5, 2020
Our new best overall pick for induction ranges is the Frigidaire Gallery FGIH3047VF.
What is a range, you may ask? A range is a generic term for a kitchen appliance with a cooktop and an oven integrated into one unit. "Oh," you're probably thinking, "you mean a stove." Or maybe you prefer the word "oven." Depending on where you grew up, your terminology for this appliance may vary. We all agree on one thing, though: Whether you're warming up canned soup or cooking a roast for a big party, your range is one of the heavy hitters in your kitchen, and it can really make or break your daily food preparation experience.
There are four different types of ranges: gas, electric, induction, and dual-fuel. You've probably heard of the eternal debate about whether gas or electric gives you better cooking results, but you may not have heard of dual-fuel or induction ranges. Dual-fuel ranges are just that: They combine both gas and electric fuels, typically in the form of a gas cooktop with an electric oven. Induction ranges have induction (generating heat in your cookware with the power of a magnetic field) cooktops and electric ovens.
While these different fuel types appeal to very different types of chefs, we've tested many, many ranges and judged them all on the same criteria: ease of use, speediness, and cooking/baking abilities. After countless hours in the lab, we can say with certainty that we've found some of the best ranges out there. The Samsung NX58K9500WG (available at Home Depot for $2,339.10) is our favorite gas range because of its fast water boiling and even cooking.
We also love the Electrolux EI30EF45QS (available at Home Depot for $2,204.10 electric range because its burners can get scorchingly hot or hit a perfect simmer.
These are the best ranges we tested ranked, in order:
Best gas range: Samsung NX58K9500WG
Best electric range: Electrolux EI30EF45QS
Best dual-fuel range: KitchenAid KSDB900ESS
Best induction range: Frigidaire Gallery FGIH3047VF
Best double oven range: LG LDG4315ST gas range
Frigidaire FPEH3077RF electric range
Bosch HEI8054U electric range
Frigidaire FGIF3036TD induction range
LG LRG4115ST gas range
Samsung NE59J7850WS electric range
Samsung NE59M6850SS electric range
Samsung NX58H5600SS gas range
Frigidaire FPEF3077QF electric range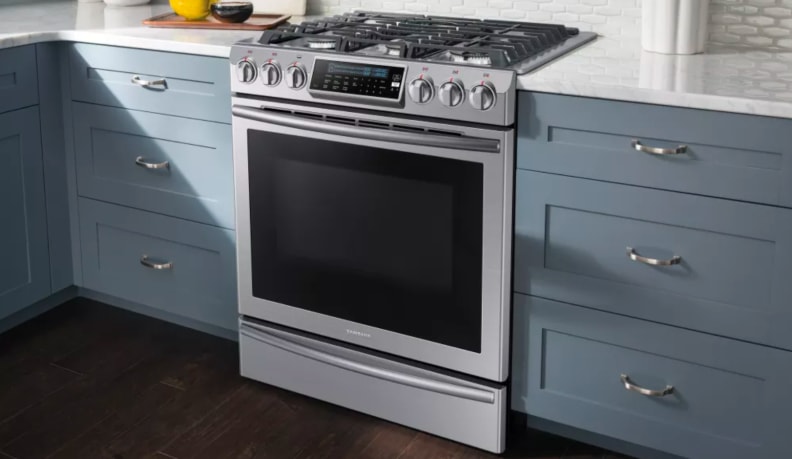 Best Gas Range
Samsung NX58K9500WG
Samsung continues to impress with another outstanding range. This slide-in range has five sealed burners on top, ranging from 5,000 to 18,000 BTUs. An included griddle rests neatly on top of the oval-shaped burner in the center when you need it. Our tests found that the minimum and maximum temperatures weren't record-breaking by any means, but it can water boiling quickly enough and the 120°F-minimum is enough for most kinds of cooking. If you need super-low simmers, you might want to check out an induction range instead.
The Samsung NX58K9500WG is a baker's delight thanks to a wonderful oven packed with useful features. It offers a true convection fan for even bakes. The time to preheat is faster than competing ranges. There's also a warming drawer pre-heating plates or keeping side dishes warm. The cookies, cakes, and pork we cooked during testing all came out looking great. If you prefer to cook with gas, the Samsung NX58K9500WG gas range is a dream come true.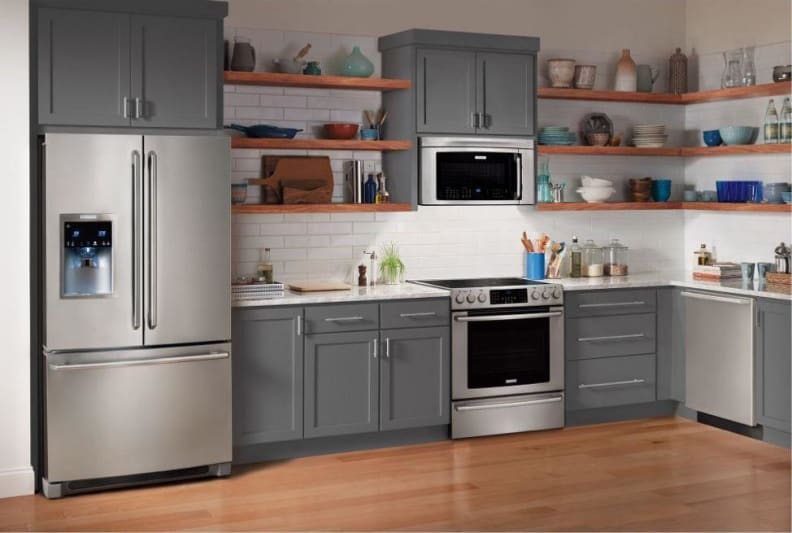 Best Electric Range
Electrolux EI30EF45QS
The Electrolux EI30EF45QS electric freestanding range has a lot going for it. Its sleek looks and versatile cooktop are definite crowd pleasers. The five cooktop burners includes two simmer burners, a warming zone burner, one normal burner, and one tri-ring burner that promises very tight temperature controls. As a result, between these five burners, they manage to cover a temperature range of 85°F-770°F, which is no joke. While boiling times are a bit slow (about six minutes to boil six cups of water), that's to be expected on an electric range.
While the oven had no trouble perfectly roasting a pork loin, it had more difficulty when it came to baking cookies and cakes evenly. While the oven's baking isn't as even as we'd hoped, the oven has a built-in meat probe and hosts a number of useful cooking/baking modes such as Bake, Broil, Convection Bake, Convection Roast, Preheat, Slow Cook, Keep Warm, and Cakes & Breads. If you want very fine control when it comes to cooking with electric burners, look no further than the Electrolux EI30EF45QS.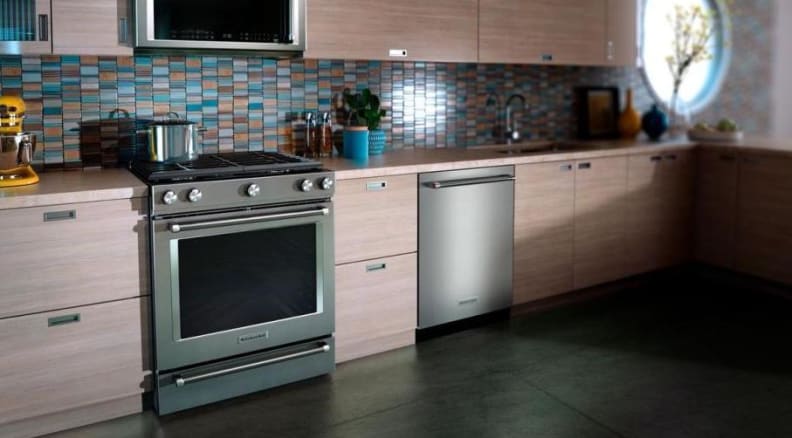 Best Dual Fuel
KitchenAid KSDB900ESS
The KitchenAid KSDB900ESS dual fuel slide-in range has a sleek pro-style aesthetic, with shiny knobs to control the gas burners and a full touch panel to control the electric oven. Between the oven and the baking drawer (which has three modes: bake, slow bake, and keep warm), the combined oven capacity is 7 cu. ft.; plenty for those large dinner parties or food-heavy holidays. Other nice touches include a steam rack for steam baking, a wireless meat probe, and AquaLift self-clean technology.
While some of out test cookies came out a bit unevenly baked, the cakes came out perfectly and evenly browned. On their lowest setting, the gas burners came in at an astonishingly low 95°F-100°F, some of the lowest temperatures we've recorded that still kept the pilot light lit. If you need fine control for your burners and mostly even baking in the oven, look no further than the KitchenAid KSDB900ESS dual-fuel range.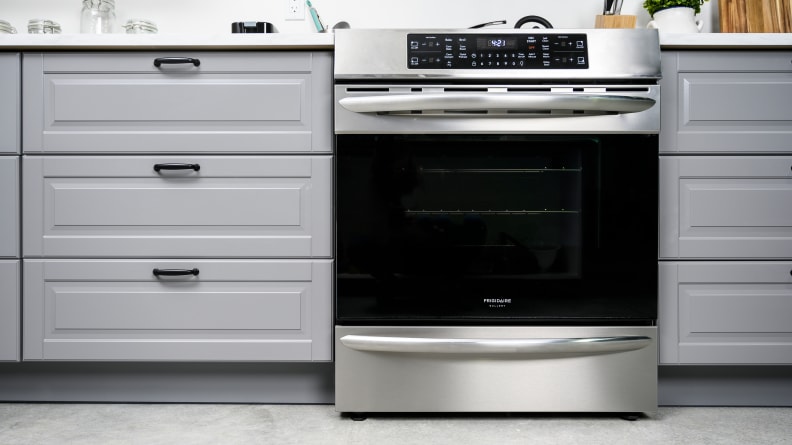 Best Overall
Frigidaire FGIH3047VF
If you've been meaning to make the jump into induction cooking but have been too scared to take the plunge, the Frigidaire Gallery FGIH3047VF might be right for you. The simple, sleek range has auto-adjusting burners and a straightforward layout to help reduce the induction learning curve, and the quick-boiling burners can cut down on total cook times. With the added bonuses of an Air Fry mode, true convection, and steam cleaning, this is a feature-loaded range at a great price.
In our testing, the FGIH3047VF roasted a 2-pound piece of pork without losing its juice, made a cooked-through pizza with a crisp crust, and brought six cups of water to boil in just over four minutes thanks to its sleek and speedy induction cooktop. Read full review.
Pros
Excellent induction cooktop

Preheats well

Unique air fry mode
Cons
True convection isn't perfect

Control panel is finicky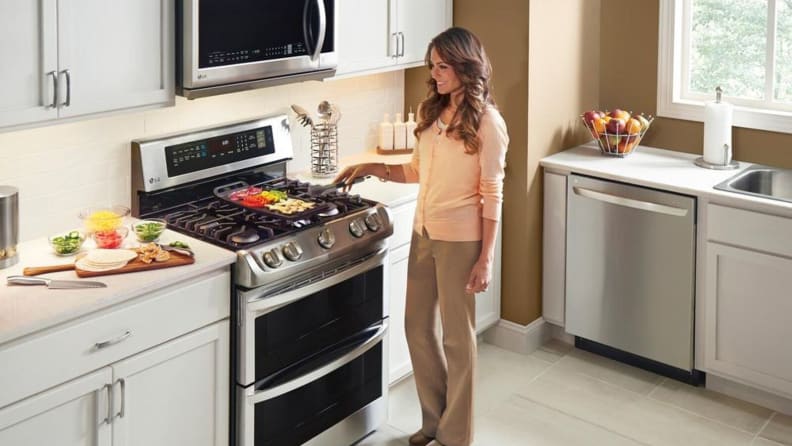 Best Double Oven Range
LG LDG4315ST
The 30-inch, 5-burner LG LDG4315ST double oven gas range offers 6.9 cu. ft. of total oven space. The 4.3-cubic-foot bottom oven is equipped with LG's ProBake convection technology, which moves the heating element to the back of the oven (rather than the bottom), and resulted in outstanding baking quality. Plus, both ovens can be cleaned in 10 minutes using LG's EasyClean Express cycle.
This is a powerful oven once you know how to use it. The LG LDG4315ST made it into the list of top performers because its cooktop and ovens do very well at core tasks: boiling, simmering, and baking. But it's important to use the correct oven (the lower oven) and the correct mode (convection mode) to get the best cooking and baking results. Learn the ins and outs of this oven and you will be rewarded.
How We Tested
The Testers
Hi there! We're Cassidy Olsen and Valerie Li, Reviewed's cooking product testers. As passionate food and beverage aficionados who have covered topics like meal kits, espresso machines, pressure cookers, microwaves, sous-vide immersion circulators, pod coffee makers, and popcorn poppers, we know what it takes to make a good kitchen appliance. Whether you're finally replacing an old range or have always wanted to add a wall oven while renovating your kitchen, we've got your back.
Not only do we perform repeatable, lab-based tests on ovens, ranges, and cooktops, but we also do real-world evaluations. That means we can tell you which products will perform the best, will give you the most bang for your buck, or have the sleekest looks. For more information on how we test ovens, ranges, and cooktops, read on.
Burner Maximum/Minimum Temperature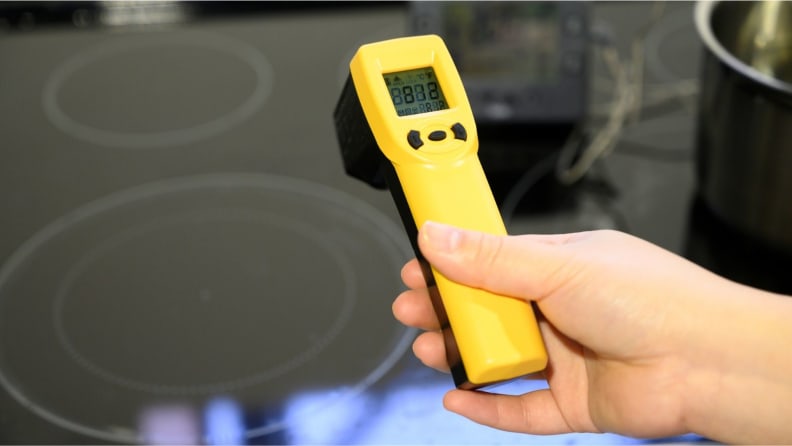 For products with burners, we measure the maximum and minimum temperature of each burner. Once the burner is set to its minimum or maximum setting, we let it sit for five minutes. At the end of five minutes, we measure the temperature of each burner. Knowledge of the maximum and minimum temperatures of a burner can help consumers to identify which burners are ideal for simmering soup, and which burner can get hot enough to properly sear a steak.
A range or cooktop with multiple burners that can reach very high and/or very low temperatures will score well. If burners cannot reach very high or low temperatures—or if only one burner can do each task—scores will be lower.
Water Boil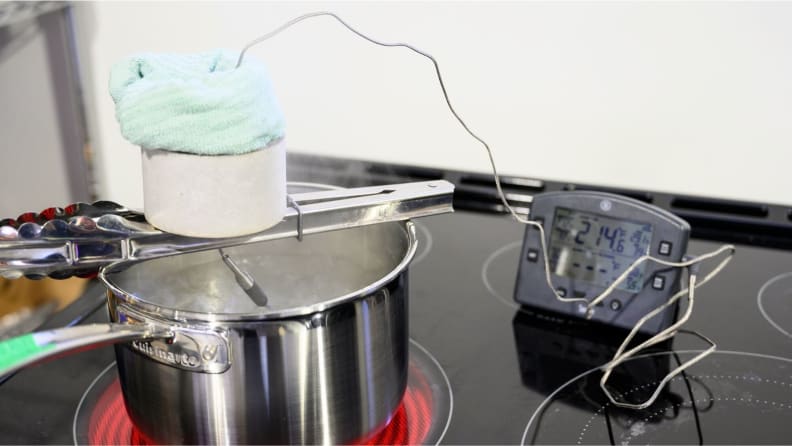 One of the most common tasks for a range or cooktop is to boil a pot of water. For each burner, we take an appropriately sized pot, and fill it up halfway with distilled water. Then, we position a thermometer horizontally in the middle of the pot, and vertically in the middle of the water column. We monitor the thermocouple and record the time it takes for the temperature of the water to reach 212°F.
If the water hasn't reached 212°F after 35 minutes, then we stop the test. Because the water volume is different for varying burner sizes, we score the water boil test on the rate of water boiling: Faster water boiling will result in higher scores, while slower water boiling will result in lower scores.
Preheating
Using a stopwatch, we measure how long it takes for the oven to achieve a preheating temperature of 350°F. We stop the clock when the oven's preheat indicator beeps.
Because no one wants to wait around forever, shorter preheating times result in higher scores, while longer preheating times result in lower scores.
Cookies
One happy side effect of testing ovens is that there are always extra cookies lying around. In addition to being delicious, cookies double as a cooking/baking proxy for other thin food items, such as brownies or vegetables.
Those cookies started as twelve chunks of Pillsbury ready-to-bake sugar cookies, which we place on an ungreased cookie sheet in a grid formation. After preheating the oven to 350°F for 15 minutes, we place the cookie sheet in the oven on rack recommended by the manufacturer (or, if there is no recommendation, the middle rack) to bake for 15 minutes. We remove the cookies from the oven, and allow them to cool for 2 minutes.
We repeat the process if there's a second oven, or if the range or oven comes with a convection option. Because convection is commonly used to bake or cook multiple food items simultaneously, we place two trays of cookies on the two racks recommended by the manufacturer.
After looking the cookies over, we determine how evenly baked they are, both within a baking sheet (regular baking mode and second oven baking mode) and between multiple baking sheets (convection bake mode). Because convection is generally a more efficient way of cooking or baking something, it is important that the multiple food items on different racks be cooked or baked to the same degree.
For all of our cookie tests, the more evenly baked the cookies are, the higher the score will be. If the product has a second oven and/or convection capabilities, then the cookie scores for those tests and the main oven test are weighted and combined to arrive at a final cookie score. This way, products with just a single, conventional oven are not penalized for their lack of a second oven or convection capabilities.
Pork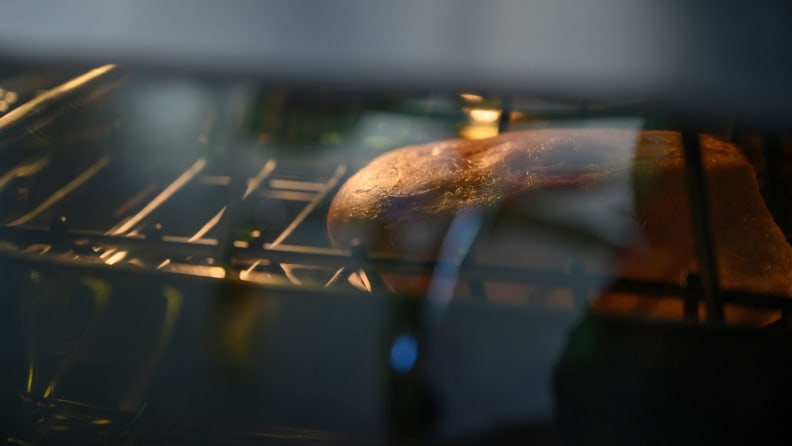 To understand how each product cooks meat products, we also use fresh, never-frozen pork loins in our testing. While we recognize that all natural products have variations that can affect test results, pork is exceptionally uniform. After placing the 3-4 lb boneless pork loin in a roasting pan, we place a temperature probe is placed in the middle of the pork loin. After preheating the oven to 325°F, the pork is placed on the rack recommended by the manufacturer, and cooks until the internal temperature probe reads 160°F, which is the minimum safe temperature for cooking most meat products.
We then remove the pork loin, let it sit for 10 minutes, and cut it into thirds so we can see how evenly cooked the pork loin is. An identical test is conducted if the oven has convection capabilities, using the Convection Roast option if available, or the standard convection mode if not.
Pizza
One of the most common reader questions we get is whether a specific oven can get hot enough to actually cook a pizza. To answer this question, we place a batch of Pillsbury Classic pizza dough on a lightly oiled baking sheet, place a temperature probe in the dough, cover it with tomato sauce and cheese, and bake it at 500°F for 10 minutes. Between the temperature data and our own subjective assessment, we determine whether the oven is capable of cooking a pizza all the way through or not.
Overall Experience
While we obviously go to great lengths to test the cooking/baking abilities of these cooking appliances, we also incorporate more subjective information into our overall assessment. For example, how easily can the cooktop surface accommodate multiple pots and pans? How easy is it to understand the control panel? How nice are the burner knobs or buttons? How loud is the preheat notification noise? We answer all of these questions and more in order to determine if there are any major drawbacks to the product that might not make it a good fit for most households.
---
What You Should Know About Ranges
Whether you're tired of long boiling times or if you pilot light won't ignite, here are a few things you should keep in mind when shopping around for your new range.
Fuel Type
As we've mentioned, there are philosophical differences in the different fuel types when it comes to a range. Here are some general tidbits about the different fuel types:
• Gas — Lower cooktop temperatures, faster water boiling, potential for uneven cooking/baking because of central flame location
• Electric — Higher cooktop temperatures, slower water boiling, more even cooking/baking because of heat distribution over coil
• Dual-fuel — Faster water boiling, more even cooking/baking because of heat distribution over coil
• Induction — Super faster water boiling, very high and low cooktop temperatures, requires special cookware, may require recipe modification
Depending on your cooking and baking priorities, as well as the way you learned to cook, one of these fuel types might be more appealing than the rest. One more thing to consider: dual-fuel and induction ranges are typically more expensive than gas and electric ranges.
Convection vs. True Convection
True Convection is an oven setting that includes installing an extra heating element and a fan in the oven. By adding an additional heating unit and fan that circulates the hot air, True Convection is great for ensuring that cookies or cakes baked on different racks will bake through at the same rate, rather than the cookies closest to the bottom heat source cooking faster than those on the rack higher up. If you don't see mention of "True Convection" or "European Convection", but do see the word "convection" in a range's specs, it means that the unit lacks an additional heating element, but does have a fan to circulate the hot air. While you don't get the full baking and cooking effect that you would with True Convection, the added heat circulation can cook or bake food more evenly than it would without a fan.
There are also ranges out there that do not offer convection options at all; these ovens aren't bad, it will just take more time to cook and bake food all the way through. If you're a frequent baker or cook, convection can be a great time saver, but your dinners won't suffer unduly without it.
Slide-in vs. Freestanding
While slide-in ranges are meant to sit flush with your countertops, freestanding ranges can stand alone in your kitchen. While the difference may seem trivial, it has ramifications for two aspects of using the range: finish and ease of cleaning. Because freestanding ranges are visible from all slides, they have a more finished look on the sides of the range; slide-in ranges are meant to have their sides hidden by the cabinetry, so the finish typically isn't as pretty on the sides.
Additionally, because slide-in ranges sit flush with your countertop, they're a bit easier to clean because they do not have a large lip around the edge. Freestanding ranges often have larger lips around the edge of the cooktop to cut down on crumbs decorating your floor. Freestanding ranges also typically have a back-mounted control panel for the same reason. While slide-in ranges will do fine in a freestanding arrangement, the reverse is less true. If your current cooking setup has the range sitting in a cabinet or countertop cutout, we recommend replacing that range with another slide-in range. Conversely, if your range stands alone in your kitchen, we'd recommend replacing it with another freestanding range to cut down on food debris spilling everywhere.
Front-mounted Control Panel vs. Back-mounted Control Panel
As we mentioned earlier, most freestanding ranges have back-mounted controls, but some slide-in ranges do as well. Both arrangements have pros and cons; on the one hand, having back-mounted controls means you may have to reach over hot food to adjust the oven temperature, the controls are also far enough away that you would have difficulty hitting something on the control panel by accident. On the other hand, front-mounted controls are easier to reach, but that convenience can turn against you if you brush up against a knob accidentally. Consider the ergonomics of using the range when it comes to picking a front- or back-mounted control panel.
Dimensions
If you need a slide-in range, be sure to double check both the dimensions of your cutout and the listed height/width/depth dimensions listed on the range's spec sheet. There are three dimensions listed for each range:
• Depth — The depth is the distance from the front of the range to the back of the range; this number typically varies from 26 inches to 30 inches because it's trying to sit flush with your cabinetry.
• Height — The height is the distance from the bottom of the range to the top of the range; this number typically varies from 36 inches to 38 inches because it's trying to get the cooking surface level with your countertops (Note: if you see product heights on the order of 46-48 inches, that number is measuring to the top of the back-mounted controls, rather than the top of the cooking surface).
• Width — The width is the distance from the left side of the range to the right side of the range; this number can vary widely, but the typical value is 30 inches (often, this is the dimension number you'll see when you first look at the range). Additional sizes include 36 inches, 48 inches, and 60 inches. While larger range widths are nice because it can translate into more burners and/or more space for your cookware, wider ranges always come with a higher price tag.
If you're getting a freestanding range, it's still worth it to check the product dimensions to ensure that the range will fit in your allotted range space in the kitchen, as well as that you can fit the range in through any narrow doorways on the way to the kitchen.
Additional Cooktop Options
Depending on how much time you spend in the kitchen, it might be worth it to investigate in some extra options for your range. When it comes to the cooktop, anything above the standard four-burner setup is a bonus. Some ranges can have five, or even six burners; however, the more burners a rangetop has, the more difficult it becomes to fit large pieces of cookware, such as a spaghetti pot and a frying pan, on their respective burners at the same time. Sometimes, those extra burners are specialty burners are designed to accommodate special cookware such as a griddle or a wok; other burners are bridge burners that are meant to keep food warm without continuing to cook it. Another possibility is to have a dual-ring burner, or a burner that includes a stronger heat source wrapped around a weaker heat source. That way, on a single burner, you can choose to use just the smaller heat source for lower temperatures, but you can add the stronger heat source if you need higher temperatures.
Additional Oven Options
As for extra oven features, they can include everything from accessories like special oven racks or a temperature probe to special cooking features like the aforementioned convection settings, fast preheat (which expedites the preheating process), bread proofing (where the oven settings are customized to activate yeast and make bread rise), steam cooking (where you pour water into a reservoir and gently cook something with the resulting steam), air fry mode (where you can expeditiously fry frozen and fresh foods, similar to an air fryer) and many, many more options. With some of the higher-end ranges, you can even choose to cook your food in one smaller oven or a larger oven, as needed. Lastly, it is possible to get a double-oven range, if you need the flexibility of two ovens, but still want a cooktop included in the same unit.
Fit and Finish
While black and white ranges finishes are still available, most ranges these days come in some variation of stainless steel options. You should be able to find a range that matches your kitchen setup and your other appliances, but be ready to pay more money for any finish more sophisticated than black, white, or basic stainless steel.
Price
Don't worry: Whether you're on a budget or have a blank check, you can find a range that will cook, bake, and boil. Mostly, the price difference between high-end ranges and more affordable ranges is usually down to the number of cooktop burners, available features, storage options, and finishes.
---
Other Ranges We Tested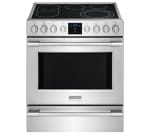 Frigidaire Professional FPEH3077RF
The freestanding Frigidaire FPEH3077RF electric range has the look, feel, and performance of much pricier range. With a sleek smudge-proof stainless steel finish, front-mounted controls, and handle with pro-style bracket, this range wouldn't look out of place in an architectural design magazine.
Of course, aesthetics are important, but this range can also bring the heat, literally. At their hottest, the cooktop burners were able to reach temperatures close to 700°F, while on their lowest settings, the burners can reach a cool 106°F—perfect for keeping something warm without burning it. One burner could even boil six cups of water in about four minutes. Our test cookies and cakes were cooked evenly all the way through, and We also appreciated extras like a storage drawer, bridge burner, griddle, and temperature probe. If you prefer to cook with an electric range, the Frigidaire FPEH3077RF will give you great results, and look good doing it.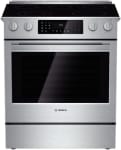 Bosch HEI8054U
The 30-inch Bosch HEI8054U all stainless electric range feels sturdy, looks great, comes with a ton of extra features and options, and performed well in our cooking and heating tests. While it takes a bit longer than usual to boil six cups of water, the cooktop burners are very versatile temperature-wise; they can reach temperatures between 110°F-800°F.
While we didn't get a chance to test out the numerous extra oven options (including Bake, Variable Broil (high and low), Roast, Warm, Proof Dough, Convection Bake, Convection Broil, Convection Roast, Multi-Rack European-style Convection with conversion, Pizza, and Fast Preheat), our tests showed that this oven does a great job cooking meat all the way through, but may be a bit uneven in its heat application when it comes to cookies. If you need a versatile electric range with solid burners and many cooking options, the Bosch HEI8054U is a good fit.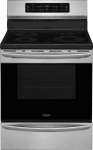 Frigidaire FGIF3036TF
Induction is a great technology but has always had a problem: It's expensive. That's why we love Frigidaire's new FGIF3036TF (also available in black stainless as the FGIF3036TD). On sale for just under a grand, it's the least expensive induction range we've ever seen with an oven that also offers convection baking. With its blazingly fast water boil times, and solid oven, and tons of neat features, you'll appreciate everything this range has to offer.
If you've always been interested in induction, but have been scared off by high prices, we think this Frigidaire would make a great introduction.
Pros
Great value

Strong convection mode
Cons
Fit and finish is lacking

Not extremely fast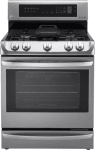 LG LRG4115ST
The innovative 5-burner, 6.3-cubic-foot LG LRG4115ST freestanding gas range features LG's new ProBake system, which moves the heating element to the rear and adds in a powerful fan that helps the hot air to circulate more evenly throughout the oven cavity; this translates into more even baking results and faster preheating.
With options for both steam and pyrolytic cleaning, you don't have to worry too much about needing to do some serious scrubbing when you get food spills in the oven.
When it comes to the cooktop, the burners hit temperatures between 110°F-440°F and the right front burner can boil six cups of water in about four minutes. Even better, the center burner is oval-shaped and meant to fit the included griddle. Even though there are five burners on this range, there's still enough room that your pots and pans won't feel crowded. If you want solid baking, cooking, and heating performance with a few extras, the LG LRG4115ST is the range for you.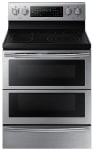 Samsung NE59J7850WS
Unlike a typical dual-oven range, the Samsung NE59J7850WS allows you to divide the 5.9-cu.-ft. oven cavity in two on demand, offering a new level of adaptability. You can also bisect the door, but only when and if you choose. Along with the oven(s), the rangetop easily reaches searing heats or simmering lows. Whether you want to cook a Thanksgiving turkey or cook multiple meals at once, this range can fit your needs.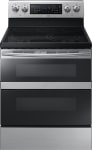 Samsung NE59M6850SS
We love the Samsung NE59M6850SS/AA electric range with convection. Its Flex Duo divider means it's three ovens in one package: It can function as a large, single oven, or you can simply slide in the divider to convert it into two smaller ovens for baking two things at once. This model also offers WiFi for remote preheat, two powerful burners, great low-heat simmering, and some of the best roasting we've ever tested.
Samsung NX58H5600SS
We loved this 5.8 cu ft. 5-burner gas range. It has nicely designed, stainless steel dials that create a super smooth turning experience, and the large digital display panel makes it easy to enter your precise oven temperature. The grates are well designed for easy cleaning, and you can remove the middle grate to place the custom griddle directly over the griddle burner.
In addition to aesthetics, the Samsung NX58H5600SS is built to perform. It preheats exceptionally fast and did well on both the baking and roasting tasks. While the burners didn't heat our cast iron pan as evenly as some of the other ovens, it was quick to boil water. It comes in at a nice budget price for a convection oven, but it looks and performs much more like a high-end range.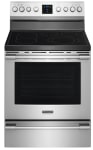 Frigidaire Professional FPEF3077QF
The Frigidaire FPEF3077QF electric range has the classic look of a high-end oven at a substantially lower price. This range has five burners including one warming zone; by activating the bridge burner between the two burners on the left side, you can turn those two burners into a single massive oblong burner. Even better, the front right burner is a dual-ring burner that allows you to switch between low and high temperatures with just the flick of a dial. Between these five burners, temperatures on the cooktop vary from 141°F-720°F. If you need lower temperatures, use the center warming zone burner. Like with most electric ranges, boiling times were somewhat slow, but we think the cooktop's versatility in burner configuration and type is more than enough to make up for it.
The 6.1-cubic-foot oven offers rapid preheat speeds and excellent overall cooking evenness, minus a slight hot spot on the right side of the oven. It's unusual to see many convection cooking options at this price range, but the FPEF3077QF defies expectations by including convection cooking modes such as Convection Bake, Convection Roast, and Convection Broil. If you're on a budget and you need a workhorse range, but still want plenty of extra cooking and baking options, we recommend the Frigidaire FPEF3077QF.
More Articles You Might Enjoy