This 44-piece Ulta kit is a great gift for makeup beginners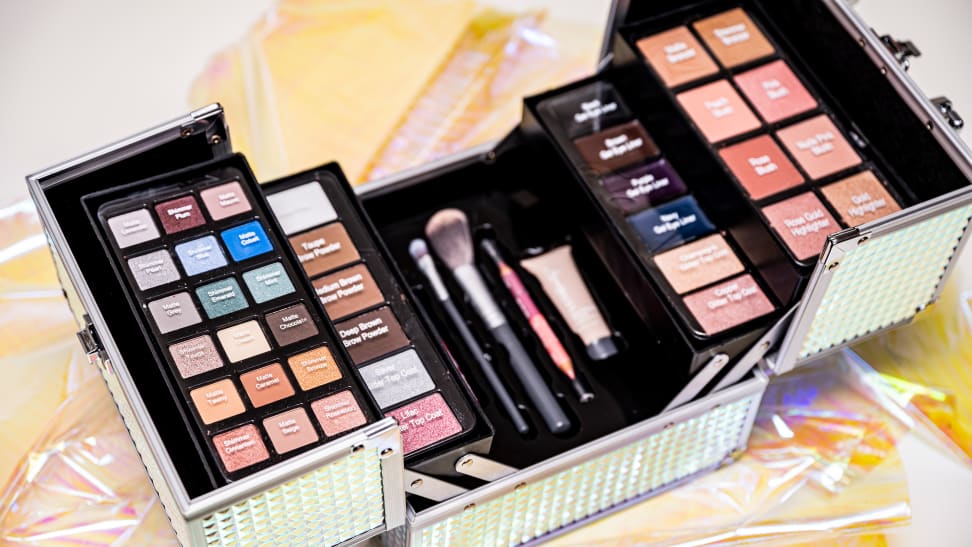 — Recommendations are independently chosen by Reviewed's editors. Purchases you make through our links may earn us a commission.
Whether you're a makeup enthusiast yourself or buying for someone who is this holiday season, the limited edition Ulta Beauty Box: Artist Edition may come on your radar. As Reviewed's beauty editor, I tried the set out for myself to help you decide on whether you should sink your brushes into this kit.
Get the Ulta Beauty Box: Artist Edition from Ulta for $29.99
What is the Ulta Beauty Box: Artist Edition?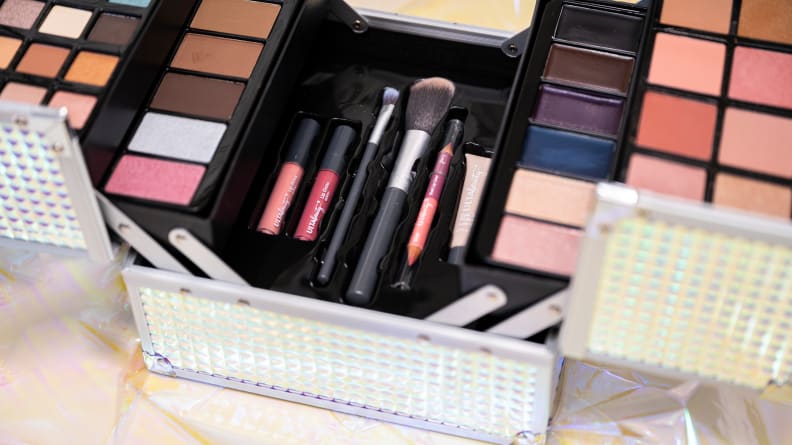 Ulta Beauty sells both drugstore and high-end makeup, skincare, and hair care products as well as its own in-house line. For this holiday season, Ulta released a $30, 44-piece makeup kit that contains 18 eyeshadows, four glitter top coats for the eyes, four gel eyeliners, four blushes, three brow powders, two highlighters, two bronzers, two lip glosses, one brow wax, one dual-ended lip liner, one tube of eyeshadow primer, one blush brush, and one eyeshadow brush. (No golden rings or a partridge in a pear tree, though.)
The cube-shaped box is an expandable trunk that buckles at the top and has a handle for easy carrying. It's available in both black and holographic colors, but the makeup inside stays the same regardless of the exterior you choose. When you open the case, it splays out to reveal makeup nestled within plastic cases on either end. For ease, I suggest removing each plastic palette and placing it on whatever you use as your vanity for easier access to all of the products.
What's it like to use the Ulta Beauty eyeshadows?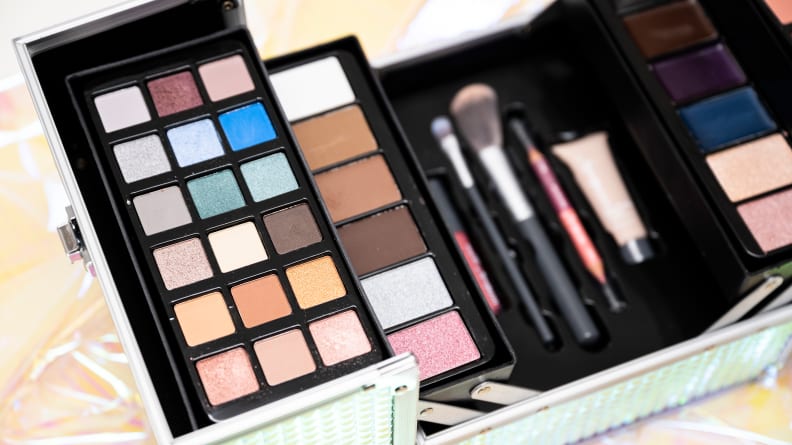 The 18-pan eyeshadow palette offers an impressive variety of neutral and bold shades, ranging from cream and chocolate brown to cobalt and plum. Each eyeshadow is labeled as either matte or shimmer, but you can also transform any look into a sparkly one using the four glitter top coats, which come in silver, lilac, champagne, and copper colors. Though square, the eyeshadow pans are about the size of a nickel and each glitter top coat is about triple the size of one shadow pan—it's not clear why that is, but the glitters should last you longer.
I wanted to test a wide range of eyeshadows, so I set out to create one neutral look and a bolder one. For each, I first tapped the eyeshadow primer, a pale-colored cream, onto my eyelids and blended it in until it created an even, tacky coat. While the Ulta Kit comes with some brushes, I felt the need to supplement to achieve the looks I wanted and to avoid cleaning the brushes after dipping into each product. In those cases, I leaned on the Sephora Collection Deluxe Brush Set, which we named the Best Upgrade pick when testing makeup brushes at Reviewed. I snagged the crease brush and picked up the shade labeled "tawny." I tapped this lightly into my crease and then made sweeping motions to blend it in.
For my neutral look, I then used the flat, rounded-edge eye brush that came with this kit to dab "plum" on the outer third of my eyes. I wiped off the brush and applied "rosewood" to the inner third corner and applied "cinnamon" in the center to bridge the gap between the two shades I'd already applied. After blending with Ulta brush, the result was a mauve-toned eye look that was subtle enough to wear for any occasion, but more dramatic than just a light wash of color.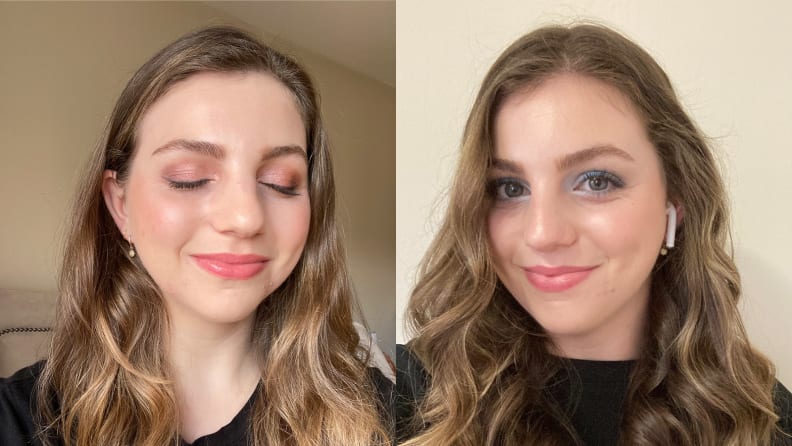 I needed to build up each shadow shade to achieve the amount of pigment I wanted, but it was easy to layer and blend each one. I noticed that the eyeshadow did not look as dramatic in the photos I took as in person—it's possible that I blended out the shadows too much, causing them to dissipate, or that they didn't stick as well as I'd originally thought.
My results were similar when applying, layering, and blending my bolder eye look, in which I used "tawny" in the crease, "chocolate" in the outer corner, "cobalt" in the center of the eyelid, and "blue" in the inner corner. These eyeshadows are fine for anyone just starting out or experimenting, but quality-wise they're nothing to write home about. Given the sticky finish of the eyeshadow primer, I expected the eyeshadows to appear just as bold and pigmented as they look in the pans, but I felt that I didn't achieve exactly what I wanted with either look.
What's it like to use the Ulta Beauty face powders?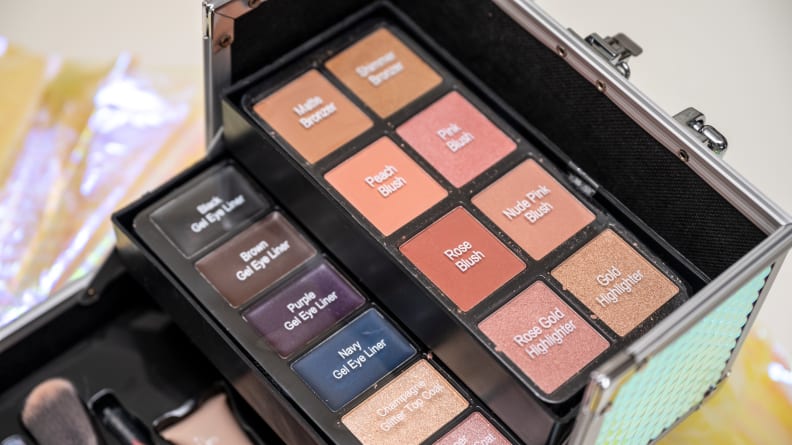 The face powders include four blushes in peach, shimmery pink, deep rose, and shimmery nude, two bronzers in matte warm brown and shimmery warm brown, and two shimmer highlighters, pink and gold.
The bronzers worked well on my very light skin tone and may work on someone with a medium or tan skin tone as well, but folks with a dark to deep complexion likely won't find them a match. I used the matte bronzer on its own and also mixed the two for a subtle sheen (I find shimmer bronzer alone too unnatural for my preference, as I use bronzer as a contour in the hollows of my cheeks, too). It created warmth on the perimeters of my face and helped carve out my cheeks when applied just under the cheekbones. The powders blended out easily with a light tapping using a flat powder brush from the Sephora Collection brushes—the included face brush sufficed for bronzer, but the dome shape makes it harder to precisely place the bronzer in the areas I want it, like in the contours of my face.
The blushes gave a beautiful flush to the cheeks and blended easily where the bronzer met the blush. They were easy to apply with accuracy with the included blush brush, which felt soft and fluffy against the skin. Three of the four blush shades lean lighter, working better for pale to medium skin tones. So while the blushes, in totality, could work for any skin tone, the palette could have been improved if Ulta had replaced one of the lighter shades with a second deep one.
These highlighters gleam gorgeously when swept across the cheekbones using a small, fluffy face brush from the Sephora kit (again, no specific highlighter brush is included here, though you could get away with using the blush brush by only coating the tip of the domed brush and lightly grazing the skin). I was shocked by how much I loved the pink highlighter—it's labeled as "rose gold" but looks as pink as a blush in its pan—because I typically gravitate toward champagne colors. It almost looked like I hadn't applied highlighter but instead was wearing a blush that offered a subtle-yet-natural glow to the tops of my cheekbones.
What's it like to use the Ulta Beauty brow products?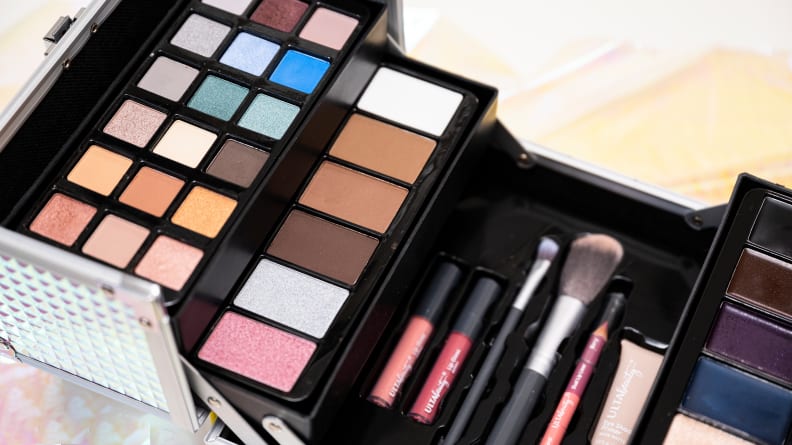 My everyday eyebrow product is a clear or tinted gel. I like to brush my already-full brow hairs upward to create a fluffy, groomed appearance and I'll occasionally use a pencil to add hair-like strokes to sparse areas, too. While I'm not a fan of brow powders because they add color without much precision, I thought these were fine enough. I rolled the spoolie end of a dual-ended angled liner brush that comes in the Sephora Collection set into the clear brow wax that's included in this kit and ran it through my brows in upward strokes the same way I would with brow gel. (Unfortunately, there's no applicator in the Ulta kit that would work for this.) I then flipped the brush around and dipped the slim, angled brush into the brow powder and lightly tapped the sparse areas, depositing the medium brown shade into my light brown eyebrows. I opted for the "medium brown" shade over the lighter shade labeled "taupe" because that one looked (unexpectedly) too warm and "deep brown" was too dark. The result was fine, but I thought the star of the show was the brow wax, which wasn't sticky and didn't look shiny once applied. It was creamy, easy to use, and left my brows looking natural but still groomed.
What's it like to use the Ulta Beauty eyeliners?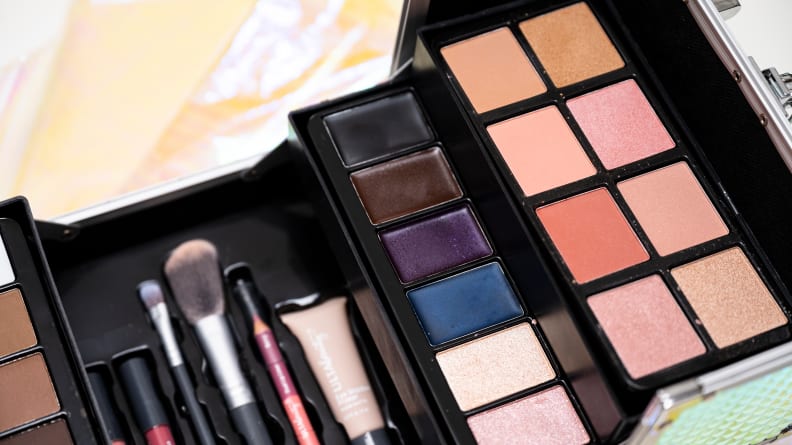 The eyeliners, in black, brown, purple, and blue, were not easy to use. The waxy formula came in a pan for dipping rather than a pencil and required several layers to create a pigmented winged liner look on the eyelids. It was easy enough to keep dipping back in using the same Sephora angled liner brush I used to apply the eyebrow powders, but I'd prefer a felt-tipped pen or even a creamy pencil that deposits plenty of pigment in one swipe. Still, these may be good for beginners who need more forgiveness from a liner, as mistakes aren't as obvious with the translucent formula that one coat gives—though, again, you'll need to BYO applicator because Ulta doesn't include one.
What's it like to use the Ulta Beauty lip products?
The kit's dual-ended lip liner pencil has a coral color and berry hue. The kit does not include a sharpener to freshen either end once it's worn down. It's not unusual for sharpeners to be sold separately, but it would have been a welcome inclusion. Lack of sharpener aside, the formula is creamy and pigmented with a single swipe.
I thought it was a great call for Ulta to include the matching lip glosses in tubes rather than in pans within a palette. This way, you can take them on the go with you and reapply anytime without any fuss and they won't dry out as quickly. The gloss formula is not too sticky or gloppy and adds a pretty shine and noticeable color to the lips, especially when layered over the corresponding liner.
What did I dislike about the Ulta Beauty box?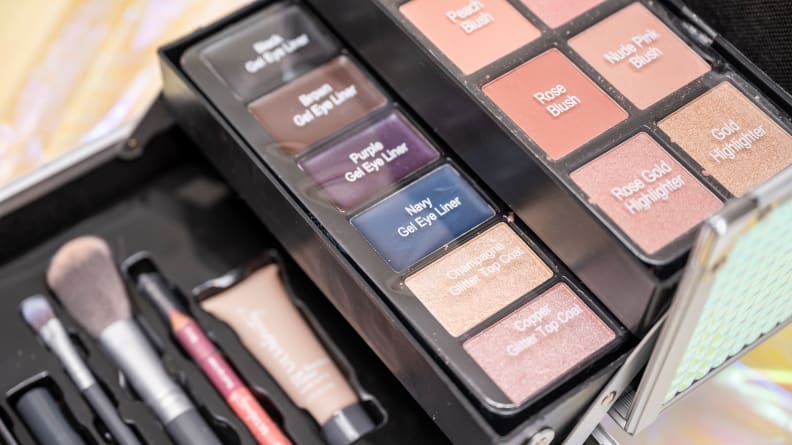 There are a few gripes I have with the Ulta Beauty Box: Artist Edition. First, the packaging is not convenient for the way people realistically apply makeup. You most likely cannot store the approximately 10-inch-tall makeup box within a vanity drawer or even under the bed in its closed-up form. Sure, you can take out the cheap-feeling plastic palettes, which have a plastic cover over them, and store them in a vanity or desk drawer that way, but it won't make for a pretty display and may even take up more room because each plastic palette is about an inch tall. If you happen to have a place to store the box that's convenient for your makeup routine, you'll find yourself prying the plastic palettes out of their respective slots, otherwise you can't take the plastic covers off of them or get to the entirety of one powder or cream pan.
Another packaging woe I can't ignore: the smell. The whole kit wreaks of plastic. The makeup itself smells normal and any packaging odor is undetectable once the makeup is on the face, but having the kit sitting open next to me while I applied my looks irritated my nose.
Should you buy the Ulta Beauty Box: Artist Edition?
Packaging and odd-smell complaints aside, this palette is easy to use and offers a great amount of variety for someone looking to get into makeup. It may not last you through the years, but it's a great launchpad for a budding makeup enthusiast who wants to get their hands on colors and learn the basics of creating makeup looks they'll love.
Get the Ulta Beauty Box: Artist Edition from Ulta for $29.99
The product experts at Reviewed have all your shopping needs covered. Follow Reviewed on Facebook, Twitter, Instagram, TikTok, or Flipboard for the latest deals, product reviews, and more.
Prices were accurate at the time this article was published but may change over time.