This 90-piece Sephora kit is an amazing gift for makeup lovers
— Recommendations are independently chosen by Reviewed's editors. Purchases you make through our links may earn us a commission.
When I was in middle school, my best friend received a giant makeup kit from Sephora for Christmas. At the time, I wasn't sure if I even liked makeup—I just knew that I was envious of its gleaming, colorful appearance in her room. This year, I got to make my teen dreams come true by testing the Sephora Collection Holiday Vibes Blockbuster Makeup Palette in all of its 90-piece glory.
What is the Sephora Collection Holiday Vibes Blockbuster Makeup Palette?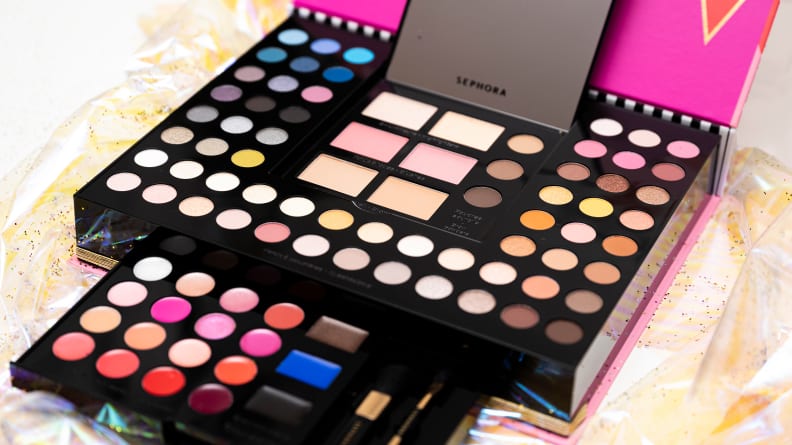 The limited-edition makeup palette from Sephora's own brand contains 60 eyeshadows, three eyeliners, three brow powders, six face powders, 16 lip glosses, and two mini makeup brushes. In addition to the makeup, the palette includes a convenient mirror that folds down to shield the face and brow powders, and a pull-out drawer that hides lip glosses and eyeliners. The whole palette closes into a neat box about the size of a laptop but deeper with an elastic band that keeps it closed.
What's it like to use the Sephora Collection eyeshadows?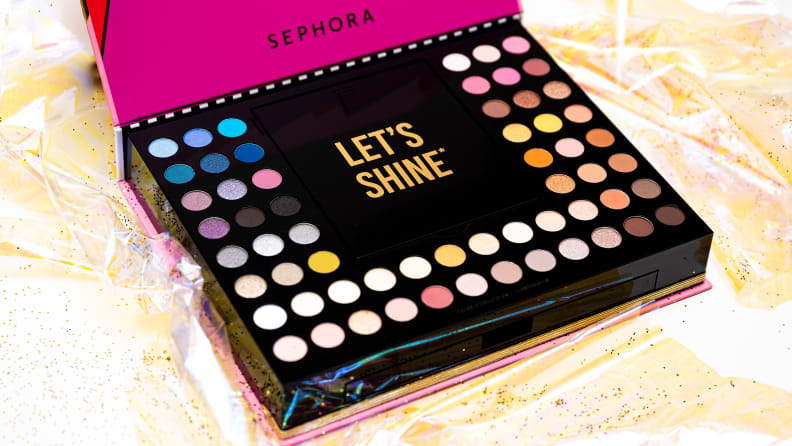 The eyeshadows come in matte, shimmer, and glitter finishes and range from neutral browns and creams to bright blues and pinks. Each pan is about the size of a penny—small but with plenty of room to dip an eyeshadow crease brush into. To test the entire palette, I used the Sephora Collection Deluxe Brush Set, which is the Best Upgrade pick from our test of makeup brushes thanks to their fluffy bristles, the variety of brush types, and the convenient carrying case.
I used the eyeshadow palette to create a colorful look using a bright yellow, bold blue, and vibrant green. I also created a neutral eye with a shimmery copper, deep brown, and caramel tone. Before applying the eyeshadows, I primed my lids with the Nars Soft Matte Creamy Concealer (though you can use an eye primer or any concealer you have on hand)—this should help the eyeshadow appear more vibrant and last longer. My crease brush was able to pick up plenty of eyeshadow with a quick shimmy in the pan, and the color of the powder on the brush matched what was in the pan—until I put it on my eyelid. There, the colors were plenty pigmented, meaning they didn't look transparent, but the brighter tones did not appear as vibrant on my skin as they did in the pan. Still, they contributed to quite a fun look that I deemed appropriate for an "early 2000's dance recital."
The neutral shades looked more accurate on my eyes vis-à-vis how they appeared in the pan. In both cases, the eyeshadows blended easily and felt super-soft on my eyes. A word to the wise: Have a light hand with these eyeshadows and be prepared to tap excess powder off your brush before applying it to the eyes to avoid fallout below on the under-eyes.
What's it like to use the Sephora Collection face powders?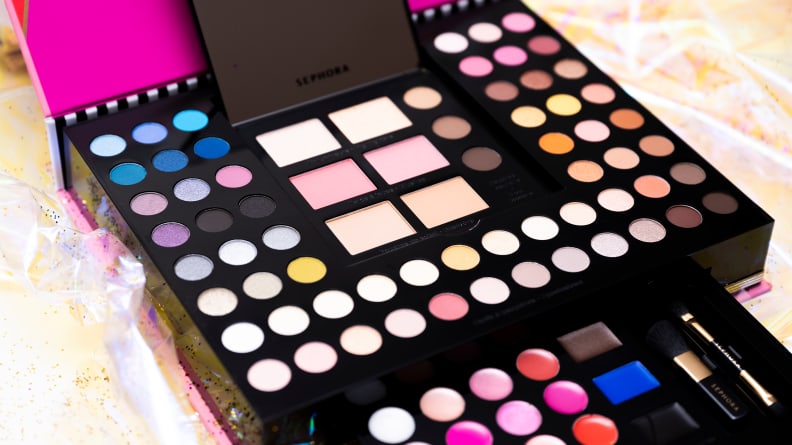 The six face powders are made up of two bronzers, two blushes, and two shimmery highlighters. Like the eyeshadows, the face powders feel soft, blend easily on the skin, and pack a bunch pigment-wise.
The bronzers' shades—one cool and one warm—are way too light for anyone with a skin tone deeper than my very light one. These worked to add warmth and depth to my cheekbones, but I imagine that anyone with a medium or deeper skin tone would not be able to use these unless they had a similar-toned complexion and could try them as setting powders. This was disappointing to see—Sephora could have opted to include one more highlighter or blush over non-inclusive bronzers.
The blushes, which include a pale pink and a deeper, coral-pink, both gave a nice flush of color to my cheeks with very little product needed. If you want a more intense look, these layer and build up well on the skin. While the lighter pink may not work for anyone deeper than a light to medium skin tone, the darker one may be suitable for all complexions. Again, there's room for improvement in terms of shade range inclusivity.
The highlighters look gorgeous on the skin. Even knowing how creamy the bronzers and blushes were, I was still surprised to dip my brush into the lighter of the two highlighters and see plenty of formula pick up. I immediately saw a beautiful gleam on my cheekbone as I swept the brush upward toward my temple. I took a beat to tilt my head back and forth in front of the light to fully take this in. The two shades—one that leans cooler and pinker and a champagne tone—may work for all complexions used separately or blended together.
Considering my positive experience with the formulas of all of the face powders, I wish the palette contained more inclusive shades so that everyone could experience them.
What's it like to use the Sephora Collection eyebrow powders?
The three eyebrow powders were a light taupe, a medium brown, and a dark brown. (Sorry, redheads or those with eyebrows darker than the deepest shade.) I can count on one hand the times I've used eyebrow powder. I typically go for a pencil (I don't have a favorite but currently own one from Kosas) and a clear or tinted eyebrow gel (I love the Anastasia Beverly Hills Clear Brow Gel). To try it, I brushed through my brows with clear gel to shape them and then dipped an angled brush into the two lightest shades to match my light brown brows. I lightly tapped the brush into the front of my eyebrows and any other sparse areas. I'm not a fan. Though, to be fair, I think I just don't enjoy powders for eyebrows. I prefer the precise, hair-like lines you can get with a pencil, or the light tint and fluffy shape you can get with a gel. The powder only allowed me to fill in my brows with color, not texture.
What's it like to use the Sephora Collection eyeliners?
The makeup kit came with black, brown, and blue gel eyeliners. I used the black one to create a bold, winged line across the tops of my eyelids for my bright-colored eye look. The liner's formula felt super-creamy and malleable as I was spreading it across my eyelid and on top of the eyeshadow with a angled liner brush. On the rare occasion I wear eyeliner, I opt for a felt pen, but this product made me rethink that choice because I found it easier to control the brush and cream. I needed to add a few layers to get a deep hue for the black, but I was satisfied with the look. It was even harder to build up pigment with the medium brown and blue shades, though. They appeared semi-transparent even after a few layers.
What's it like to use the Sephora Collection lip glosses?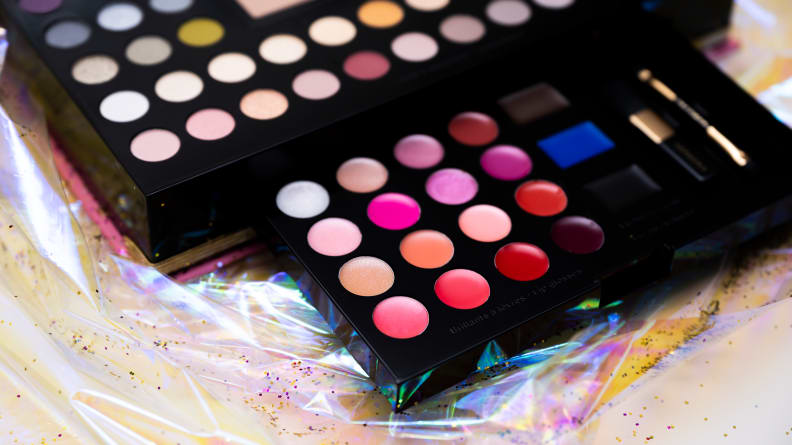 I used the thin, angled liner brush that came with the kit to apply the lip glosses. Side note: This is actually the only time I found the brushes that came with the kit useful. To fully coat my lips and build up pigment, I needed a few swipes of the formula, but I didn't mind this, as it's comfortable to wear on the lips and doesn't feel gloppy or sticky despite the layers. The colors I tried also looked pretty and stayed shiny through me taking photos of my completed makeup. Like most glosses, these wear away when eating and drinking, but the formula is as comfortable as others I've tried and packs more of a punch than sheer lippies (though the kit includes clear glosses with a slight tint if you prefer it).
Should you buy the Sephora Collection Holiday Vibes Blockbuster Makeup Palette?
There are two people I foresee this palette being an excellent choice for: beginner makeup wearers and anyone who wants to play with makeup on a budget. The palette costs $36, which may not be affordable for everyone, but, to put it into perspective, it's on par with the price of a single foundation at Sephora. The brand also makes a pared-down version, the Mini Holiday Vibes Blockbuster Makeup Palette, that includes 30 eyeshadows, three face powders, and six lip glosses for $20.
While the Sephora Collection line has more affordable options compared to the higher-end brands that the retailer sells, this palette is a bargain even compared to those, considering the variety in it. If you know anyone who is starting to show interest in makeup or someone who likes to change up their makeup looks, this makes for an excellent gift. And on a personal note, I had fun using this palette because it brought me back to when doing my makeup felt like an art experiment.

The product experts at Reviewed have all your shopping needs covered. Follow Reviewed on Facebook, Twitter, Instagram, TikTok, or Flipboard for the latest deals, product reviews, and more.
Prices were accurate at the time this article was published but may change over time.