Top 10 U.S. Roadside Attractions
Roadside attractions are usually defined as some giant, green-spotted animal (dinosaurs, for the most part) you can see on Interstates. But roadside attractions are sometimes as-is: an attraction by a roadside that's so eye-catching that you just have to stop and admire it. There are tons of these in the United States, and here we have compiled a list of the top 10 roadside attractions.
The Thing, Arizona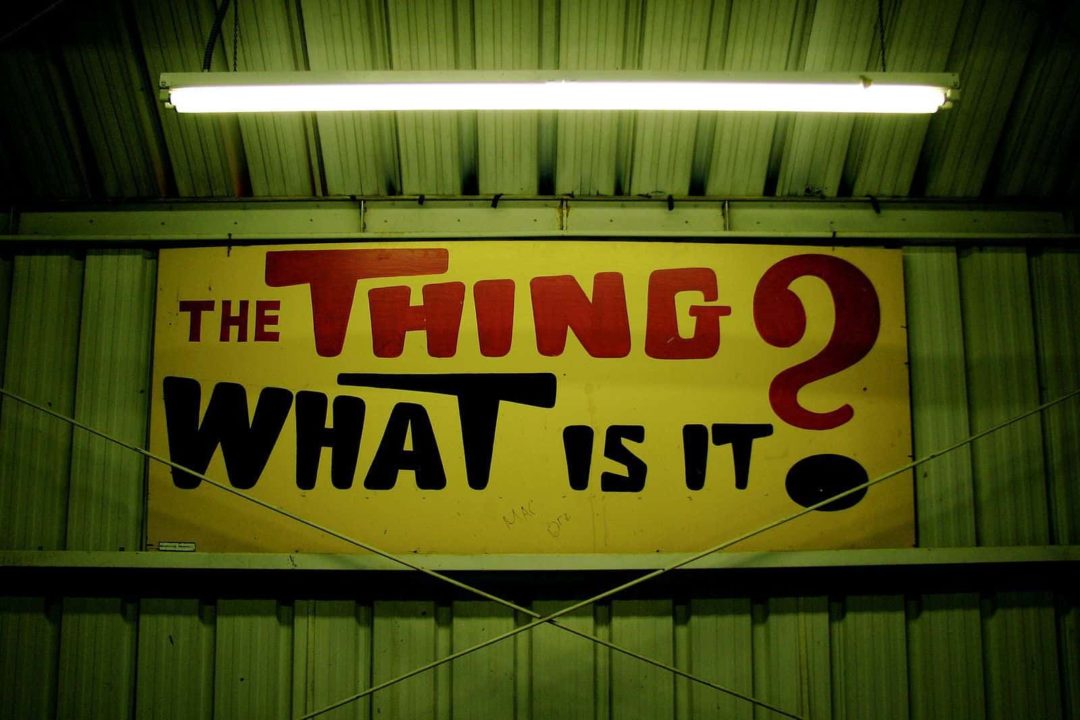 Before arriving in Dragoon, Arizona, you'll most likely see some "precautionary" signs along the way to alert you of the presence of The Thing. Made up of striped metal sheds, it houses a number of strange things. If you take the time to go inside, you'll be welcomed by a nauseating surprise. Not only will you be confronted with gimmicky taste in patterns, but you can also get a little history fix as you trek the sidewalk. No spoilers here though, you can simply pass by and admire it. Mini spoiler: Rolls-Royce and mummies.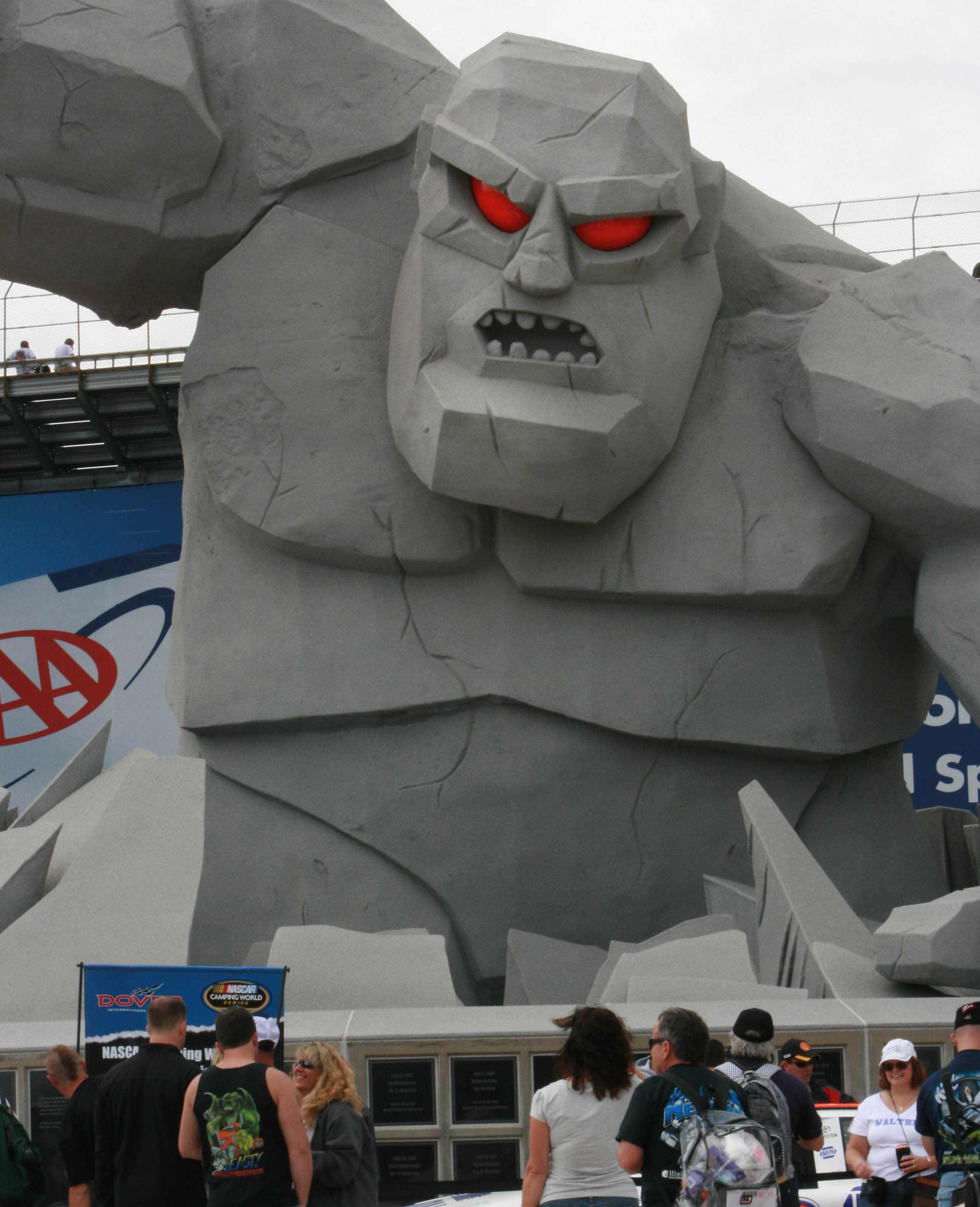 Miles the Monster, Dover, DE
At the site of the Dover International Speedway in Dover, Delaware lives a massive rock monster with flame red eyes. While the speedway is less-than-scenic, posing with this 46-foot-tall car-crushing behemoth guarantees massive Instagram likes. It seems like it's from The Thing and The Hulk's same angular genetic branch. "It actually usually has legs," says Joe Heller, the racetrack's PR coordinator,  "but if it did, it could go up to 80 feet tall!" He does have a point there. They compromised by showing the monster's upper half only.
World's largest chest of drawers, North Carolina
In High Point, North Carolina, the "Home Furnishings Capital of the World," on your way to one of the two major trade shows that open the town up twice a year, you'll find the world's largest chest of drawers. Two enormous socks dangle from a drawer, officially symbolizing "the city's hosiery industry." It's right in the middle of a neighborhood full of houses,  so this roadside attraction really catches you off guard.
Hole N' The Rock, Utah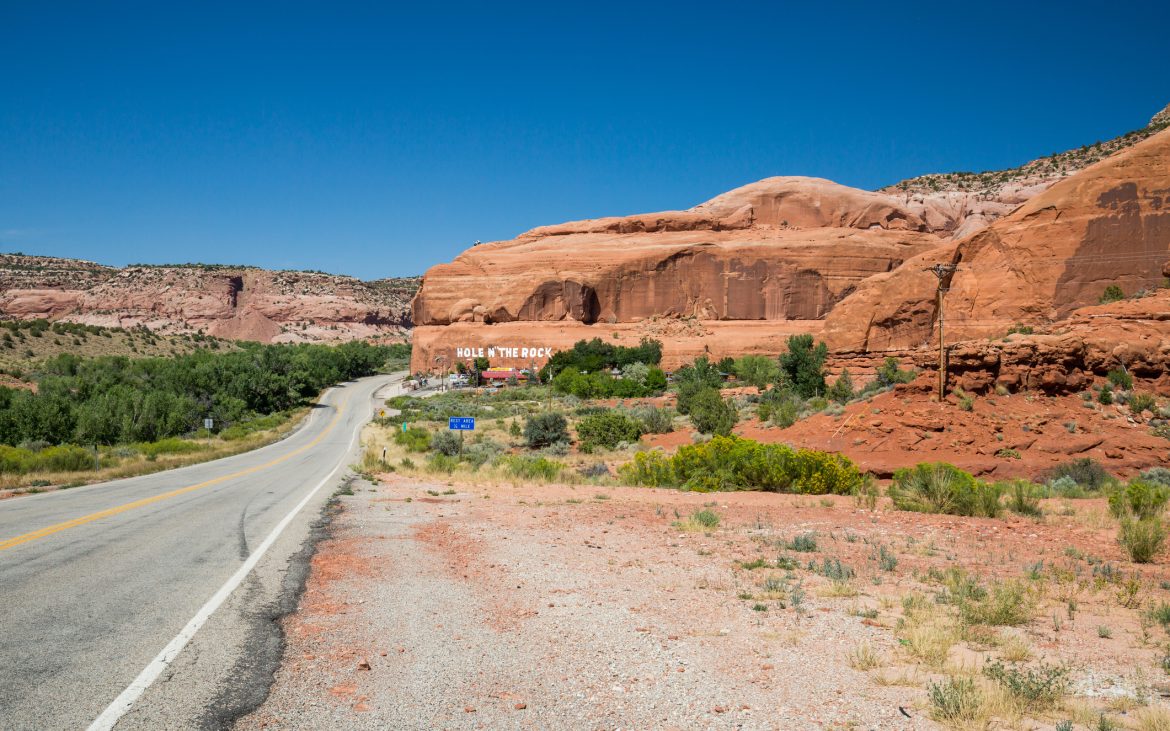 On the outskirts of the most well-known mountain biking capitals of the world, the Hole N' the Rock is carved out of a signature Moab red rock. Albert Christensen hand-carved his luxurious suite of rooms out of a natural cliff face in the 1940s. This lasted for 12 years, and soon after he moved in with his wife Gladys. Inside this magnificent 5,000-square foot home are 14 rooms, with some being simple with the sheer rock-carving mania they required. There are other attractions that are no doubt inspired by Albert's work, such as Gas Station-In-The-Rock in Hanksville, Bed and Breakfast-in-the-Rock in the Canyonlands area, and others.
Bishop Castle; Rye, CO
You wouldn't think that private homes are roadside attractions, but this Bishop Castle in Rye, Colorado is obviously an exception. It is owned by Rye native Jim Bishop,  and this wood-and-stone castle has been continually built upon since 1969 when Bishop was 15.
Enchanted Highway, Regent, ND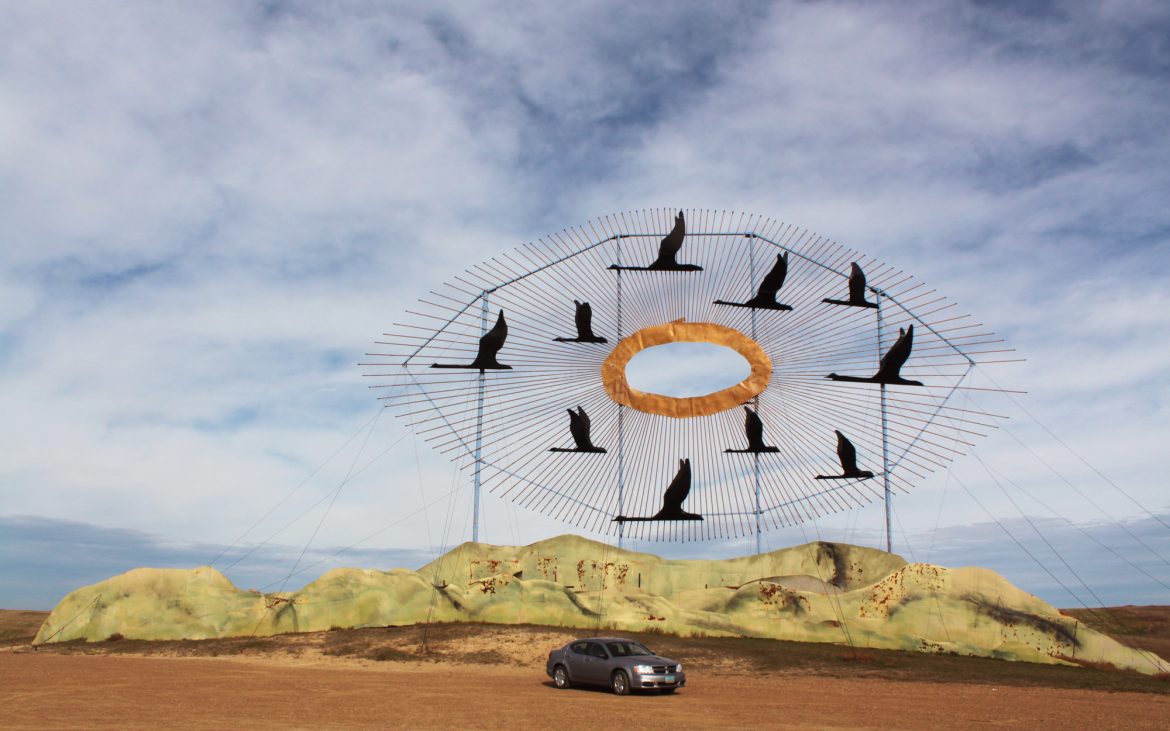 The Enchanted Highway is a 32-mile stretch of paved county highway between Regent and Gladstone, reaching I-94. made by metal sculptor and retired schoolteacher Gary Greff, he then created ten giant sculptures, one every few miles along Regency-Gladstone Road, paired with picnic areas and playground equipment.
The Farnham Fantasy Farm; Unger, WV
The Farnham Fantasy Farm (sometimes called Farnham Colossi) in Unger, West Virginia will truly be an Instagram-worthy spot that'll fit your feed. It's home to a collection of massive statues of men, ranging from Santa Claus to surfers, in addition to one solo bikini-clad gal.
UFO Welcome Center, Bowman, SC
Aliens are truly welcome in this roadside attraction at Bowman, South Carolina. It's a UFO replica and scrap metal fence that'll tug your heartstrings with this token of friendship to our outer space friends.
World's Largest Garden Gnome; Kerhonkson, NY
If you thought gnomes are only guardians of little home gardens, you'll have to reconsider. Here we have Gnome Chomsky, standing 13.5 feet tall over the area's rolling green hills.
Grandfather Cuts Loose the Ponies; Vantage, WA
Don't be too scared when you see more than a dozen horses riding along a hillside. They're not coming for you. At least, not yet. Artist David Govedare installed these 15 life-size steel horses in 1990. It's also a great spot to stop and have a picnic, hike the cliffs, or enjoy the scenic view of the Columbia River, so don't mull over fear and explore this roadside attraction.
The post Top 10 U.S. Roadside Attractions appeared first on Good Sam Camping Blog.