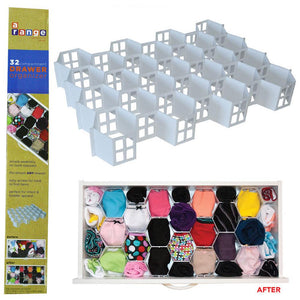 32 Compartment Organizer Simply Assembly No Tools Required Fits Almost Any Drawer!
Organize messy drawers, cluttered kitchen, impossible junk drawers, and create space in hard to reach areas, while creating easy access for hard to find items!
Perfect solution for infant and toddler apparel!
With simple assembly, and no tools required, fits almost any drawer.
Specs: Fully assembled dimensions: 19.5 inches in length, 13.8 inches in width and 2.8 inches in height.
Align two pieces using one of the two methods shown above and snap together.
Complete four more sets and then snap all together.
Easily trim down with household scissors to fit smaller spaces.
Note: Additional sets can be purchased and added on for larger or deeper drawer.