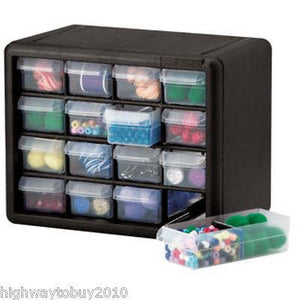 Lot sale of (4) new 16 Drawer Storage / Organizer Cabinets by Akro Mils Inc.
Quantity of (4) Cabinets:
New Black Storage Cabinets are made of 100% recycled material. Quick storage solutions for every crafting need.
The strongest, best made plastic cabinet on the market with interlocking frame and face ensure strength and durability, and improve appearance.
Rugged, high-impact industrial-grade polymer frame resists damage in shipping and storage
Drawer dividers won't get lost – molded into cabinet back; snap off of frame to remove. 

Clarified industrial-grade polymer drawers. 

Flexible, strong and see-through

Chemical resistant

Worm-resistant for storing plastic fishing tackle

Apply standard labels (not included) to drawer pulls for quick content identification

Cabinet Measures: 

10-1/2 x 8-1/2 x 6-3/8

Drawers Measure: 2-1/8" x 1-1/2" x 5-1/4"

Made in USA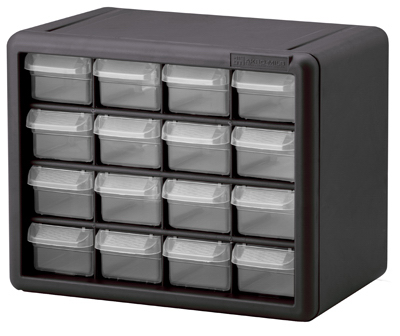 x (4)