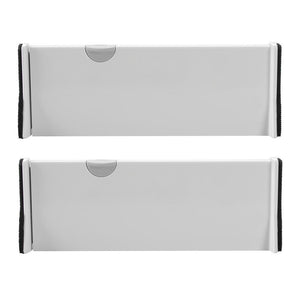 The OXO 4" Expandable Drawer Dividers are a perfect solution to organizing messy drawers and taking back the space. 
This set includes two dividers that are each 4" tall and expand from 11" to 17" to fit most drawers front to back or side to side. The mechanism is easy to use, extremely sturdy and does not require tools for installation. Just push down on the grey handle to secure the divider in place so it won't budge, even if the drawer is opened and closed frequently. These expandable dividers are perfect for keeping socks and undergarments neatly separated from other items in the drawer, dividing drawers to fit baby and children's clothing, organizing jewelry and many other uses. The dividers can also be used in deeper kitchen or office drawers.
Dimensions: L11" x W1.75" x H4"
 This product is only available for shipping within Canada.