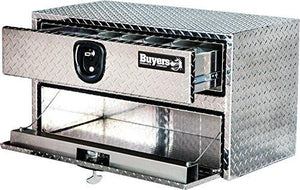 Brand: Buyers Products
Features:
Dimensions: 20"(H) x 18"(D) x 48"(W)
Built tough with durable, corrosion-resistant, .100 in. thick diamond tread aluminum for great weather resistance.
Contents protected by a recessed drop door with continuous hidden hinge.
Shut out weather and theft with the locking, die cast compression latch system.
Can be mounted on either a flat surface or under-bed.
Manufacturer Parts Warranty Description: Parts
Publisher: Buyers Products
Release Date: 2016-01-19
Details: Protect and secure your equipment for the long haul with an underbed truck box that offers convenient, easy access on the job site. The Diamond Tread Aluminum Underbody Truck Box with Drawer from Buyers Products is crafted for durability with thick diamond tread aluminum, a reinforced and recessed drop down door, and slide out drawer. Adjustable drawer dividers hold your contents in place no matter the terrain, while the locking, die cast compression latch system guards your tools from weather and theft. Units are built to perform for long life with aircraft grade cable lanyards, aluminum continuous hinges, and a watertight gasket system.
UPC: 724920102520
EAN: 0724920102520