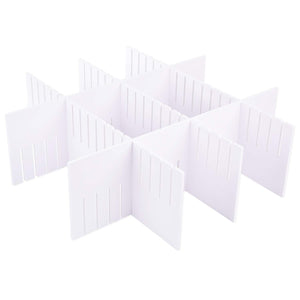 Brand: E-BAYKER
Color: White
Features:
5 Pack 5.7x17.7 inch Drawer Divider/Organizer: Powerful creativity divider, easy snap together assembly, you can DIY it to fit your drawer just as your wishes. It can be widely used and very practical.
Features: It made of high quality environment-friendly wood-plastic boards. Featured with waterproof, easy to clean, fire retardant. The thickness is up to 5mm, high hardness, can be firmly fixed, and will not be deformed.
Using Instruction - 1.Take the size of your drawer or the size you want. 2.Using cutter leave a knife mark on the surface (It's better to leave a knife mark on the two sides of the divide surface, it will be easier to break off and the cutting surface also will be even more smooth). 3. Along with the knife mark to break off the divider. Begin to DIY any size of drawer divider that you want.
Drawer Divider / Organizer: It can be used for make-up cosmetics, skin care products,underwear, socks, underwear, towels, neckties, leather belt, kitchenware, tableware, stationery, snacks, or other clothes, and more daily necessities for drawer organizing.
Desk Organizer / DIY Other's Insteresting Organizer Tools: It can be placed on the desktop for office tools, water cups, small potted plants, or more things organizer, which saves you desktop space reasonably. In addition, it can also be used to make other small storage tools, such as pen containers, remote control boxes, and other imaginative DIY.
Publisher: E-BAYKER
Details: Free DIY for Your Drawer

5 Pack drawer dividers provide you a perfect solution for your drawer organizer and save your drawer space!

*Make some changable lattices for your drawer organizer based on your real needs. If you want to control your drawer organizer's size, chooser our dividers. These dividers will help you use the drawer space more reasonably and make your drawers easier to organizer.
*Easy snap together assembly design, it will be more convenient to disassemble and disassemble.You can DIY the divider based on your real drawer size. To achieve the practical use of these dividers, and avoid the situation of drawer organizer that you purchased and your drawer size does not match, save your money and time.

Provide You a More Way to Organizer Your Desk and Other More DIY Organizer

The multipurpose of these dividers determines its wide using. It note only is a drawer organizer, but also this is a desk organizer. Also it has others DIY ways.

Package Including:
5.7x17.7 inch * 5 Pack
Package Dimensions: 18.1 x 6.1 x 1.1 inches