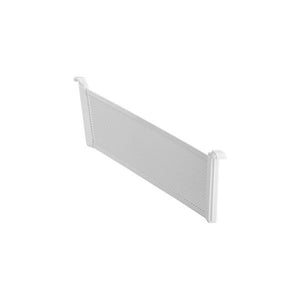 Organise with Elfa. Have additional functionality with Elfa Mesh Drawer Divider. This 80mm mesh divider glides easily in your drawer, making it organised and clutter-free.
The Elfa Mesh Drawer Divider works best with
Features:
Colour: White
Made from Epoxy-bonded steel for durability
Clicks in any position in a drawer
Size:
43.1 x 1 x 8 cm
To maintain Elfa's exceptionally high standard of quality, some orders containing oversize components (including wall bands and top tracks) or bulk quantities of some components may not be eligible for national shipping. Please contact us to learn more.