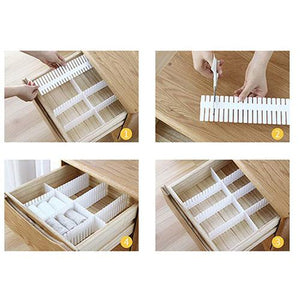 Made of high quality plastic, can be cutting according to your need, flexible.
Cut and shortened the DIY drawer dividers pieces to fit in your drawers.
Drawer Organizer: Best for your office supplies, kitchen utensil tools, bathroom, hosiery, necktie, belt, scarf and underwear, etc. Help find your things at a glance.
Household Storage Thickening Housing Spacer Sub-Grid Finishing Shelves for Home Tidy Closet Stationary Makeup Socks Underwear Scarves Organizer.