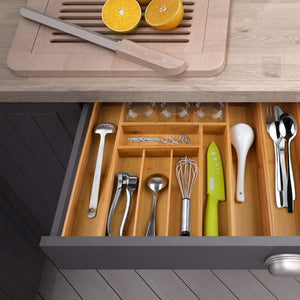 Brand: Decor Trends
Color: Nature
Features:
Decor Trends Cutlery Tray is little different with other sellers',which with 8 compartments; expands to 10 compartments for maximum storage space .2 of the 10 large compartments are adjustable. 3 of 10 small compartments are adjusted to be 1 compartment. Size:17.5'' L *11.8'' W * 2.6'' H , Extended Size: 17.5'' L *18.3'' W* 2.6'' H
Flatware Drawer Organizer is made with High Quality Nature Moso Bamboo which is grown organically and renewably
Utensil Organizer can be Partially Extended . It is wide with deep dividers for easy organization. Sturdy ,Solid With Beautiful Workmanship
Decor Trends Silverware Tray is designed to fit most drawers to solve the utensil mess, Our dividers measures 2.6" in height x 17.5" long and it expands from 11.8" to 18" inches, making it ideal to fit most drawers . We recommend measuring your drawer before ordering
Warranty If for any reason this product does not meet your expectation, you can contact us for a replacement. Your comments on quality ,packaging and delivery is our best chance to improve
Publisher: Ruxuan
Details: Premium Large 2.5 Inch Deep Pure Bamboo Expandable Utensil Cutlery Tray Utility Drawer Organizer Adjustable Kitchen Drawer Divider.

Extra Deep for more storage, 2.5 inch deep compartments allows the large cutlery tray to hold more silverware and cooking utensils in your kitchen drawer.
Ingeniously designed 10 compartments. 2 slots can be removable according to your storage habitat.
The drawer organizer is sized to fit almost any standard drawers to maximize storage space .
Made of high-quality bamboo; wipe down with a damp cloth to clean as needed .

Are you looking for large sturdy solid beatiful workmanshiped bamboo utensil cutlery drawer organizer tray ? Don't Miss This One !
UPC: 729375017061
EAN: 729375017061
Package Dimensions: 18.5 x 12.0 x 3.0 inches