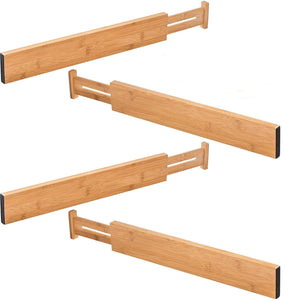 TILEMALL Bamboo Kitchen Drawer Dividers Drawer Organizers Expandable Drawer Dividers Wood Desk Drawer Organizers, Tray Organizer for Kitchen, Baby Drawer, Bathroom, Bedroom, Office or Dresser
Sick and tired of endlessly looking for your tools or knives? With our extendable (18 ½†to 22.6â€) drawer organizers 4-pack, you can keep your drawers neatly organized and save your time!

The Kitchen Drawer Organizers will allow you to easily organize all your accessories, tools, kitchenware, cutlery or even baby clothes. The sturdy and durable material will last long, providing convenience and comfort to its owners.

Our drawer dividers have utilized a spring-loaded system that will allow you to effortlessly install them in most drawers. Plus, the padded ends will protect your drawers from scratches.

Now you can neatly organize your utensils, cooking accessories, baby supplies, office supplies, cleaning or bathroom products or even clothes with our drawer organizers and dividers for kitchen dresser bathroom desk bedroom.

Features:
-- Superior quality EVA foam sponge on ends to be sure stability of use and also will not damage the inner wall of drawers.
-- Stylish look and wisdom design, suitable for Bedroom, Bathroom, Closet, Office, Kitchen Storage.
-- The dividers are also easy to remove, so you can create a custom storage solution to meet your needs.
-- perfect for storing and organizing socks, women's leggings, sports bras, yoga pants, lingerie, tights, t-shirts, scarves, belts, accessories and more.

Dresser drawer dividers
Sock and underwear drawer organizers
Baby clothes dividers
Bathroom drawer organizers
Makeup drawer organizers
Desk drawer organizers
Toolbox drawer organizers

Package Includes:
4 x Adjustable Drawer Dividers

If you're not happy with the product for any reason, you're covered by a full, money-back refund.Please email w3436396959@outlook.com with any questions you may have and we will do our best to resolve your concerns immediately.
Product Features
Strong tension spring-loaded, adjustable construction, easy install and remove, with non-slip pads for a secure and snug fit. perfect and easiest to organize your kitchen, bathroom or bedroom drawers.
The drawer dividers extending from18.3†up to 21.6†can adapt to all kinds of drawers, and easy to adjust depending on your changing needs (Pls Check the size of your drawer to ensure it will fit before ordering). They instantly increase space, minimize mess and help you keep track of important items.
The extra-long compartments are ideal for organizing any kitchen tool. And they are convenient in the office for organizing pens, notepads, or paper clips. The dividers are also easy to remove, so you can create a custom storage solution to meet your needs.
The drawer organizer made from 100% natural, eco-friendly, sustainable bamboo, you don't have to worry about splitting or mold. Water resistant lacquer extends the life of your wood bathtub holder for years to come. Sturdy and durable.