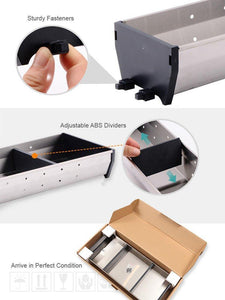 Brand: Úniko Vida
Color: Multicolor
Features:
ÚNIKA+ [Stainless Steel Edition] is made of rust-resistant Stainless Steel finish main body, and ABS adjustable dividers/tray-ends with sturdy fasteners.
Sophisticated clean industrial design - minimal meets functional yet durable construction
Complement with any style of your kitchen or bathroom household appliances, or products
Length of all "Short" trays is 16.14" (410 mm) / Length of all "Long" trays is 18.15" (460 mm)
Other Úniko Vida products: THE ÚNIKA SYSTEM / ÚNIKA+ [Wood Edition] / ÚNIKA HIVE
Publisher: Únika Vida
Details:
ÚNIKA+ [Stainless Steel Edition] is a series of stainless steel cutlery trays which offers smart and easy storage for flatware, silverware and utensil organization. It eliminates clutter instantly and maximizes drawer space, keeps your items handily organized and neatly separated so that you can easily to have quick access to find what you need.
Features

Sophisticated clean industrial design with durable stainless steel and ABS construction


Easy wipe clean with mild soap water, and dry thoroughly before reinstallment


All these listed models come with either 1 or 2 pieces of adjustable ABS dividers to be customized to your needs.
About Úniko Vida: It was founded based on the one most important tenant in life, Live Your Best Life. By providing simple, original, functional, and affordable design, we aim to achieve our number one goal which is Satisfied Customers' Usability.



UPC: 669665682923
EAN: 669665682923
Package Dimensions: 20.0 x 9.5 x 4.0 inches